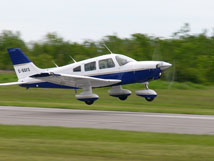 The Piper Warrior's Journey
Undeniably, the Piper Warrior is not just any aircraft; it's an icon of the aviation world. Therefore, let's look into the interesting story of this plane.
HISTORY
In the beginning the Piper Warrior, also known as the Piper PA-28 Cherokee, was born out of the vision of Piper Aircraft, a leading aviation manufacturer. When it was introduced in 1965, it was designed to be a versatile aircraft. Thus it served the needs of both general aviation and training schools. In time, there have been various versions, but obviously its history remains the same: a reliable, efficient, and comfortable aircraft.
DESIGN
Piper particularly paid attention to its modern and efficient design. Specifications are:
Wingspan: 35 feet 5 inches
Length: 23 feet 3 inches
Weight: Roughly 2,150 pounds (maximum takeoff weight)
Seating Capacity: 4 (including the pilot)
Undeniably, its sleek design not only adds to its visual appeal but also enhances its aerodynamic performance.
PERFORMANCE
Top Speed: Approximately 130 knots
Range: Around 800 nautical miles
Altitude: Service ceiling of 11,000 feet
Fuel Efficiency: It's efficient fuel burn makes it a favored for cross-country flights.
TECHNOLOGY
Undoubtedly, the Warrior stands apart in its class with these features:
Advanced avionics.
Efficient engine that guarantees reliability.
Enhanced safety systems that prioritize the well-being of its passengers.
VARIANTS
Additionally, there are multiple variants of the Piper Warrior, each tailored for specific requirements:
Piper PA-28-151: The Cherokee Warrior was introduced in the mid-'70s.
Piper PA-28-161: The Cherokee Warrior II and III included advanced avionics and performance capabilities. Different variants serve purposes ranging from flight training to personal transportation.
OPERATORS
For the most part, the Piper Warrior's versatility has made it a popular choice among:
Flight training schools across the globe.
General aviation enthusiasts.
Charter flight operators.
Ultimately, it must be remembered that it's not just an aircraft; it's a reliable partner for all aviation enthusiasts.
In Conclusion, The Piper Warrior stands as a testament to innovation, efficiency, and reliability in aviation. Its stellar performance, combined with cutting-edge technology, ensures its place in the annals of aviation history. Share this fascinating journey of the Piper Warrior with aviation enthusiasts and let them marvel at this flying wonder!
---
Specifications and Performance Data
| Characteristic | Specification |
| --- | --- |
| Engine Type | Lycoming O-320 |
| Dimensions |   |
| – Wingspan | 35 feet 5 inches |
| – Length | 23 feet 3 inches |
| Maximum Weight | 2,150 pounds |
| Range | 800 nautical miles |
| Top Speed | 130 knots |
| Service Altitude | 11,000 feet |
| Fuel Capacity | 50 gallons |
Ultimately, if you dive deeper into the world of aviation, you'll surely come across the Piper Warrior again and again!