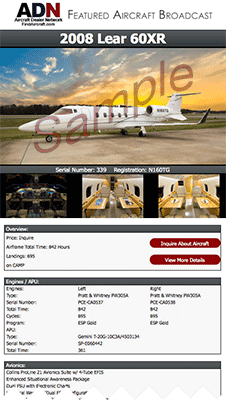 Reach thousands of aircraft dealers and active aircraft buyers by broadcasting your ad through our exclusive network. Use the same service that has helped hundreds of sellers sell aircraft quickly and efficiently. Our broadcast distribution list of over 30,000 potential buyers contains more REAL contacts than any other service out there, PERIOD! With 20+ years of experience, we have the most relevant list of dealers, aircraft owners, private buyers, FBOs, & corporate customers! Sign up or call 1-800-745-1700 to place your ad!
Service Highlights
Sent to over 30,000 potential buyers
Full page ad with specs and photos of your aircraft
Professional custom designed ads
Over 20 years of experience. We pioneered aviation broadcast ads
We have helped sell thousands of aircraft.
$100 Per Broadcast
To Order Call: 1-800-745-1700
See What A Few Customers Have to Say…
The experience we have had with ADN has always been very professional and friendly. Personnel at ADN are always ready to assist our needs and help us in any way to make our advertising as easy as possible. On occasions, we have had special requests and Katrina has gone out of her way to be sure we get the performance required. Truly thank you for all your help, it is always appreciated! – Carolyn Hyatt (AeroSmith Penny II LLC)
I'm always very happy with the excellent service we receive from you and ADN. We track our referrals and you are consistently the top referrer to our website. We value the relationship we have and look forward to many years of working together ahead of us. Thank you again for all you do for O'Gara! – Ashley Charnley: Marketing Director (OGARAJETS)
We have maintained a relationship with ADN for many years. They provide exceptional customer service, great advertising rates, and a diverse range of services that suit our advertising needs perfectly. It is always a pleasure to work with them. Thanks to ADN for all of their hard work! They are always very eager to lend a helping hand, and all of our requests are handled in a prompt manner! – Jenn Buchanan (Omni International Jet Trading)
As a company focused on sales and marketing, it means a lot that our customer service rep really understands our business and follows our success personally. We appreciate ADN's friendly, no pressure service and get good results from their eBlasts. René Banglesdorf, CEO (Charlie Bravo Aviation)