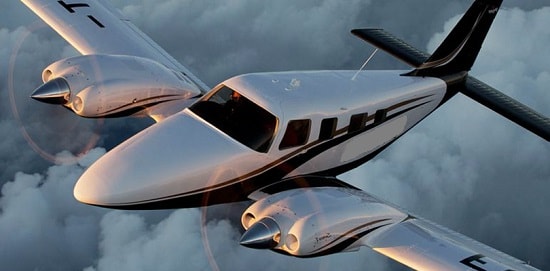 The Piper Seneca IV Aircraft: The Pinnacle of Twin-Engines
When it comes to versatile twin-engine aircraft, few can compare with the prowess and acclaim of the Piper Seneca IV. Here's an in-depth look into this magnificent aircraft.
---
HISTORY
The Piper Seneca is a product of the renowned Piper Aircraft, Inc., an aviation giant recognized for producing a myriad of versatile aircraft. Introduced in the 1970s, the Seneca underwent a series of advancements, with the Seneca IV making its debut in the 1990s. It was birthed out of the need for a larger and more powerful aircraft, positioning itself in the realm of light-twin aircraft designed for business, personal, and training use.
---
DESIGN
Wingspan: Approximately 38.9 feet
Length: Roughly 28.6 feet
Maximum Takeoff Weight: About 4,750 lbs
Seating Capacity: Comfortably seats six
Sporting a sleek design and a distinctive T-tail, the Piper Seneca IV presents itself as an aerodynamically advanced aircraft. Its spacious interior is complemented by its broad wingspan and structural integrity.
---
PERFORMANCE
Top Speed: 200 knots
Range: About 828 nautical miles
Altitude: Maximum operational altitude of 25,000 feet
Fuel Efficiency: Enhanced by its counter-rotating engines, making it one of the more fuel-efficient light twins.
The Seneca IV's performance metrics aren't just numbers; they represent reliability, agility, and efficiency in the world of twin-engine aviation.
---
TECHNOLOGY
Boasting state-of-the-art avionics and efficient propulsion mechanisms, the Seneca IV stands out. Equipped with Garmin G1000 NXi avionics suite, pilots get an edge in navigation, tracking, and monitoring. The aircraft's safety systems, including its ice protection system and advanced landing gear, further accentuate its prowess.
---
VARIANTS
While the Seneca IV is quite versatile, earlier models like Seneca I, II, and III had paved the way. Each variant carries improvements, both in performance and comfort, tailoring to specific aviation needs.
---
OPERATORS
The Piper Seneca IV is not just a personal or business transport aircraft. Various flight schools globally have incorporated it into their fleets, owing to its reliability and twin-engine configuration, perfect for advanced training. Additionally, charter services find it an excellent fit for short-haul flights.
---
In conclusion, the Piper Seneca IV isn't merely an aircraft; it's a testimony to innovation, design, and the ever-evolving world of aviation. From its rich history to its advanced features, it truly signifies a landmark in aviation history.
If you found this deep dive into the Piper Seneca IV intriguing, do share it with fellow aviation enthusiasts!
---
SPECIFICATIONS & PERFORMANCE DATA
| Characteristic | Details |
| --- | --- |
| Engine Type | Continental TSIO-360-RB |
| Dimensions (WxL) | 38.9ft x 28.6ft |
| Max Takeoff Weight | 4,750 lbs |
| Top Speed | 200 knots |
| Operational Altitude | 25,000 feet |
| Range | 828 nautical miles |
| Seating Capacity | 6 |