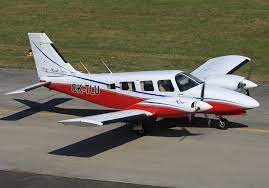 The Piper Seneca II Aircraft: Flying with Distinction
The Piper Seneca II, a name that resonates with many aviation enthusiasts, is not just an aircraft, but an icon in light twin-engine aviation. Let's dive into the intricate details that have carved the Piper Seneca II's place in aviation history.
---
HISTORY
The Piper Seneca series hails from the reputed manufacturer, Piper Aircraft. Introduced to the aviation world in the early 1970s, the Piper Seneca II made its mark as an improved version of the original Seneca model. Designed for both personal and business use, its notable enhancements and twin-engine reliability quickly gained traction among pilots and travelers alike.
---
DESIGN
The Piper Seneca II's design encompasses both aesthetics and functionality.
Wingspan: 38.9 feet
Length: 28.6 feet
Weight: Approximately 3,400 pounds (standard empty weight)
Seating Capacity: Typically seats six, including the pilot.
The aircraft seamlessly combines comfort with practicality, ensuring a smooth flight experience.
---
PERFORMANCE
Equipped with performance that inspires confidence:
Top Speed: Approximately 200 mph
Range: Roughly 800 miles
Altitude: Maximum operational altitude of about 25,000 feet
Fuel Efficiency: Consumes about 20 gallons per hour (under standard conditions)
The Piper Seneca II offers the perfect balance of speed, range, and efficiency.
---
TECHNOLOGY
The Piper Seneca II isn't just about looks and performance. Its technological edge makes it stand out.
Avionics: Modern units often come with Garmin suites for precision navigation.
Propulsion: Two turbocharged, six-cylinder engines ensuring redundancy and reliability.
Safety Systems: Features like ice protection and advanced landing gear systems enhance safety.
---
VARIANTS
While the Piper Seneca II is a star, Piper Aircraft did introduce subsequent models with various improvements:
Seneca III: Featuring upgraded engines and a redesigned cowling.
Seneca IV and V: Further improvements in aerodynamics and avionics.
---
OPERATORS
The Piper Seneca II graces the fleets of:
Various flight schools for twin-engine training.
Charter companies for regional transport.
Many private owners, valuing its reliability for personal and business travel.
---
To conclude, the Piper Seneca II is more than an aircraft; it's a testament to aviation engineering and innovation. Its combination of performance, design, and technology ensures its place in aviation history. Share this with fellow aviation enthusiasts to spread the knowledge!
---
Piper Seneca II Specifications:
| Characteristic | Detail |
| --- | --- |
| Engine Type | Turbocharged, Six-cylinder |
| Wingspan | 38.9 feet |
| Length | 28.6 feet |
| Weight | ~3,400 pounds |
| Top Speed | ~200 mph |
| Range | ~800 miles |
| Altitude | 25,000 feet |
| Fuel Efficiency | ~20 gallons/hour |