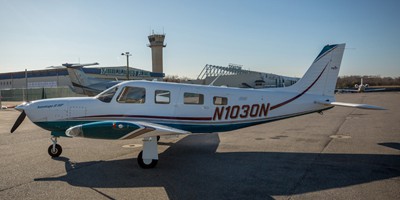 The Piper Saratoga Aircraft: Soaring Through History
The world of aviation boasts countless models, each with its own story and niche. However, some aircraft, like the Piper Saratoga, have carved an indelible mark. Let's journey through the life and wings of this impressive aircraft!
HISTORY
The Piper Saratoga, a true embodiment of Piper Aircraft's dedication to innovation, was introduced in the late 1970s. Born as an improvement to the earlier Piper Cherokee Six and Lance models, the Saratoga thrived in its segment due to its perfect blend of performance and practicality.
DESIGN
Elegance meets functionality in the Piper Saratoga's design. Key features include:
Wingspan: 36.2 feet
Length: 28.3 feet
Maximum Takeoff Weight: 3,600 lbs
Seating Capacity: Up to six, ensuring comfortable travel for both pilot and passengers.
PERFORMANCE
The Saratoga, with its smooth handling and robust performance, stands tall among its peers.
Top Speed: 174 knots
Range: 1,020 nautical miles
Service Ceiling: 15,000 feet
Fuel Efficiency: Excellent for its class, allowing for longer flights with fewer stops.
TECHNOLOGY
The Saratoga isn't just about looks and speed. It's packed with advanced features:
Avionics: Equipped with modern avionic suites, making navigation and communication seamless.
Propulsion: Powered by a dependable Lycoming engine that ensures reliability and efficiency.
Safety Systems: Enhanced safety features, including reinforced structures and advanced landing gear, ensuring peace of mind.
VARIANTS
The Saratoga has two primary variants:
Fixed Gear Variant: Originally called the Saratoga SP
Retractable Gear Variant: Known as the Saratoga II HP, offering better aerodynamics.
OPERATORS
The Piper Saratoga graces various fleets across the globe. While primarily used for personal and business travel, it's also a favorite among flight training schools due to its reliability and ease of operation.
IN CONCLUSION
The Piper Saratoga isn't just an aircraft; it's an emblem of the golden era of general aviation. Its legacy in the aviation industry is a testament to Piper Aircraft's dedication to bringing the best in the sky. If you're an aviation enthusiast or simply intrigued, share this post to spread the love for this flying marvel!
Specifications of Piper Saratoga:
| Feature | Specification |
| --- | --- |
| Engine | Lycoming IO-540 |
| Dimensions | Wingspan: 36.2 ft, Length: 28.3 ft |
| Range | 1,020 NM |
| Service Ceiling | 15,000 ft |
| Top Speed | 174 knots |
| Seating Capacity | Up to 6 |
| MTOW | 3,600 lbs |