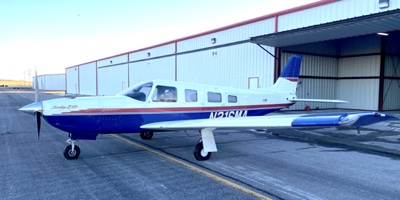 The Piper Saratoga II HP Aircraft: A Blend of Legacy and Performance
The Piper Saratoga is an aircraft that has captured the hearts of aviation enthusiasts and pilots alike. A product of the revered Piper Aircraft, the Saratoga II HP boasts of a rich history, cutting-edge design, and top-tier performance. Join us as we take a dive into the world of this iconic aircraft.
---
HISTORY
The II HP traces its roots back to the original Piper Cherokee Six design, which began its journey in the 1960s. As time progressed and the need for more advanced and refined aircraft grew, Piper introduced the Saratoga in the late 1970s. The II HP variant came into being during the 1980s, with improvements that built upon its predecessors.
DESIGN
Wingspan: Approximately 36 feet
Length: Just over 28 feet
Weight: Roughly 3,600 pounds maximum takeoff weight
Seating Capacity: Six (including the pilot)
The II HP offers a spacious interior, with comfortable seating and an intuitive cockpit layout, making it a favorite for both pilots and passengers.
PERFORMANCE
Top Speed: About 163 knots
Range: Approximately 980 nautical miles
Altitude: Service ceiling of around 15,000 feet
Fuel Efficiency: The Saratoga II HP offers competitive fuel consumption, which, when combined with its range, makes it an ideal choice for long-distance travel.
TECHNOLOGY
The aircraft is equipped with modern avionics, including GPS and auto-pilot capabilities. The propulsion system offers reliability, ensuring safe and smooth flights. Safety systems, like storm scopes and traffic collision avoidance, are integrated to bolster the security of the journey.
VARIANTS
While the Piper Saratoga has seen several variants, the II HP stands out due to its higher power and refinements, tailoring it for both personal and professional use.
OPERATORS
While primarily designed for civilian use, flight schools, charter companies, and private operators have cherished the Piper Saratoga II HP for its versatility and performance.
---
In summary, the Piper Saratoga II HP is not just an aircraft—it's a testament to the evolution of aviation. Its unique blend of history, performance, and technology showcases how far we have come in the realm of flight. Share this post with fellow aviation enthusiasts and let them marvel at this machine's prowess!
Specifications of Piper Saratoga II HP:
| Specification | Detail |
| --- | --- |
| Engines | Lycoming TIO-540-AH1A |
| Dimensions | Wingspan: 36ft, Length: 28ft |
| Range | 980 nautical miles |
| Maximum Altitude | 15,000 feet |
| Seating | 6 |
| Max Takeoff Weight | 3,600 pounds |