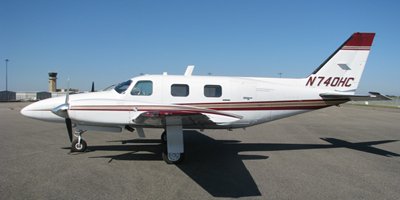 The Piper Mojave Aircraft: Aviation's Desert Jewel
When we talk about distinctive aircraft, the Piper Mojave deserves a prominent mention. This unique aircraft has been turning heads and winning hearts since its introduction. Let's delve into the details of this desert gem.
---
HISTORY
The Mojave, also known as the Piper PA-31P-350 Mojave, is a product of the famed Piper Aircraft manufacturing company. Known for its lineage of high-performance aircraft, Piper introduced the Mojave in the early 1980s. Designed to be a step-up from the PA-31P Navajo for those looking for more power and performance, the Mojave has since established itself as a reliable choice for both private and commercial use.
---
DESIGN
A closer look at the Mojave reveals a meticulously crafted design.
Wingspan: 40.8 feet
Length: 32.7 feet
Maximum Takeoff Weight: 7,000 lbs
Seating Capacity: Typically seats 6-8, with configurations that can be adjusted for passenger or cargo needs.
---
PERFORMANCE
Performance metrics are where the Mojave truly shines.
Top Speed: Approximately 242 knots
Range: 1,484 nautical miles
Maximum Altitude: 25,000 feet
Fuel Efficiency: Average consumption is about 31 gallons per hour, a testament to its design efficiency.
---
TECHNOLOGY
The Mojave is not just about power; it's also about innovation.
Avionics: Advanced avionics packages are common in the Mojave, offering pilots comprehensive flight data and enhancing safety.
Propulsion: It boasts twin Lycoming TIGO-541 engines, known for their reliability and power.
Safety Systems: Enhanced safety features, including anti-icing systems and advanced navigation tools, ensure safer journeys.
---
VARIANTS
While the standard Mojave remains a favorite, there have been upgrades and tweaks over the years. However, these changes mostly revolve around avionics and interior comfort, rather than fundamental design alterations.
---
OPERATORS
While primarily popular among private owners, the Mojave also found its place in smaller commercial operations and charter services. Its versatility and performance make it suitable for various missions, from passenger transport to cargo flights.
---
In conclusion, the Piper Mojave stands tall as an icon in aviation history. Its blend of performance, design, and technology makes it a sought-after aircraft for those who want the very best. If you're an aviation enthusiast or someone looking to delve into the world of high-performance aircraft, the Mojave is a shining example of what's possible. Share this gem with others who share your sky-high passion!
---
Piper Mojave Specifications:
| Specification | Details |
| --- | --- |
| Engines | 2 x Lycoming TIGO-541 |
| Wingspan | 40.8 feet |
| Length | 32.7 feet |
| Max Takeoff Weight | 7,000 lbs |
| Seating Capacity | 6-8 |
| Top Speed | 242 knots |
| Range | 1,484 nautical miles |
| Maximum Altitude | 25,000 feet |
| Fuel Efficiency | ~31 gallons/hour |