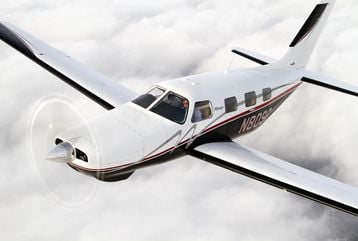 The Piper Mirage Aircraft: A Crown Jewel of General Aviation
The Piper Mirage is more than just an aircraft; it's a testament to the innovation and dedication of aviation experts. In this post, we delve deep into the world of the Piper Malibu Mirage, discovering its roots, its design, and what makes it stand out among its contemporaries.
---
HISTORY
The Piper Mirage, a product of the esteemed Piper Aircraft company, had its origins back in the late 1980s. Piper Aircraft, renowned for its commitment to general aviation, introduced the Mirage and PA-46 Malibu and Matrix, now known as their M-class lineup, specifically catering to the private sector and business travelers. Over the years, it has seen various enhancements, consistently building on its promise of delivering unmatched comfort and performance.
---
DESIGN
Wingspan: 43 feet (13.1 m) Length: 28.9 feet (8.8 m) Weight: Typically around 3,400 lbs (1,542 kg) when empty Seating Capacity: 6 (including the pilot)
Its sleek design ensures optimal aerodynamics while the plush interiors provide utmost comfort to the passengers. It is not just built for looks; it's built for endurance and luxury.
---
PERFORMANCE
Top Speed: Approximately 213 knots Range: Roughly 1,500 nautical miles Service Ceiling Altitude: 25,000 feet Fuel Efficiency: The Mirage offers a competitive fuel burn rate making it ideal for longer journeys without frequent refueling.
The Mirage's impeccable range and speed make it a favored choice for those long, transcontinental flights.
---
TECHNOLOGY
The Mirage boasts state-of-the-art avionics. It incorporates the Garmin G1000 NXi integrated avionics suite, ensuring pilots have the best navigation and monitoring tools at their fingertips. The propulsion system employs a Lycoming TIO-540 engine, trusted for its reliability. The safety systems, including traffic collision alerts and enhanced ground proximity warning systems, ensure peace of mind during every flight.
---
VARIANTS
While the standard Mirage remains a classic, its variant, the Piper M350, takes the features up a notch with enhanced safety features and an even more powerful engine.
---
OPERATORS
While primarily designed for private and business use, various flying schools and charter companies also favor the Mirage due to its reliability and cost-efficiency.
---
In summary, the Mirage is more than a marvel of aviation. It represents a commitment to excellence, blending cutting-edge technology with comfort. This aircraft undeniably holds a significant place in the annals of aviation history. If you're an aviation enthusiast or just someone intrigued by the Piper Mirage, spread the word and share this post!
---
Specifications & Performance Data
| Specification | Details |
| --- | --- |
| Engine | Lycoming TIO-540-AE2A |
| Horsepower | 350 HP |
| Dimensions | Wingspan: 43 ft, Length: 28.9 ft |
| Max Range | ~1,500 nm |
| Top Speed | 213 knots |
| Service Ceiling | 25,000 ft |
Share the love of aviation. Fly high with the Piper Mirage!