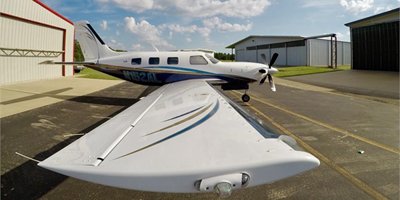 The Piper Meridian Aircraft: A Modern Marvel in the Skies
The world of aviation is vast and ever-evolving, filled with numerous remarkable aircraft that have left their mark. One such remarkable aircraft is the Piper Meridian, a gem in the sky. Let's take a closer look at what makes this aircraft truly special.
HISTORY
The Meridian, originally manufactured by Piper Aircraft, made its debut in 2000. Born from the Piper Malibu legacy, the Meridian was developed as a turbine-engine powered derivative, intended for the general aviation community.
Over the years, its reliability, performance, and distinctive design have made it a favorite among pilots and enthusiasts alike. From its maiden flight to its countless journeys across the skies, the Meridian has garnered an illustrious reputation.
DESIGN
The Meridian is a testament to advanced aircraft design. Here's a quick snapshot of its design features:
Wingspan: 43 ft (13.1 m)
Length: 29.2 ft (8.9 m)
Weight: Maximum takeoff weight of 5,092 lbs (2,310 kg)
Seating Capacity: Comfortably seats six, including the pilot.
PERFORMANCE
Performance is where the Meridian truly shines:
Top Speed: 300 knots (345 mph or 556 km/h)
Range: 1,000 nautical miles (1,151 miles or 1,852 km)
Altitude: Capable of flying up to 30,000 ft
Fuel Efficiency: Exceptional fuel efficiency, considering its class and performance.
TECHNOLOGY
Equipped with state-of-the-art technology:
Avionics: Equipped with the Garmin G1000 avionics suite, offering pilots unparalleled control and situational awareness.
Propulsion: Powered by the Pratt & Whitney PT6A-42A turboprop engine, known for its reliability and efficiency.
Safety Systems: Enhanced ground proximity warning systems, traffic collision systems, and digital weather radar.
VARIANTS
While the Meridian itself is a variant of the Piper Malibu, it does pave the way for the M500 and M600 models, which offer advancements in avionics, performance, and overall design.
OPERATORS
While primarily designed for personal and business use, several flight training schools, charter services, and corporations have adopted the Meridian into their fleets, capitalizing on its performance and reliability.
IN CONCLUSION
The Piper Meridian isn't just an aircraft; it's a testament to modern aviation's capabilities. A blend of history, design, and state-of-the-art technology, it stands as a beacon for what's possible in the realm of air travel. If you're an aviation enthusiast or simply intrigued by this magnificent machine, don't forget to share this post with fellow enthusiasts!
---
Piper Meridian Detailed Specifications:
| Characteristic | Specification |
| --- | --- |
| Engine | Pratt & Whitney PT6A-42A |
| Wingspan | 43 ft (13.1 m) |
| Length | 29.2 ft (8.9 m) |
| MTOW | 5,092 lbs (2,310 kg) |
| Top Speed | 300 knots (345 mph) |
| Range | 1,000 nm (1,852 km) |
| Service Ceiling | 30,000 ft |
| Seating Capacity | 6 (including pilot) |
Dive deeper into aviation's wonders and you'll find many more gems like the Piper Meridian!