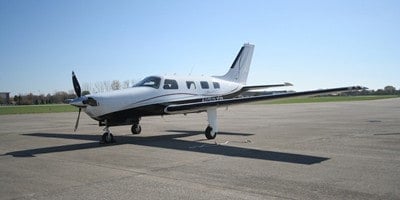 Piper Matrix
The Piper Matrix is a single turbocharged engine, non-pressurized, produced by Piper from 2008 until 2016. Model PA46R-350T seats up to 5 passengers and 1 pilot.
Specifications
Exterior Dimensions
Wing span: 43 ft
Length: 28 ft 1 in
Height: 11 ft 4 in
Specs
Cruise: 213 ktas, max cruise speed
Max Range: 1,343 nm
Useful Load: 1,355 lbs
Cabin Volume:
Forward Baggage compartment: 13 cu. ft. (100 lbs)
Avionics
Avidyne FlightMax Entegra (Release 9 in 2011), AHRS, dual GNS430s w/WAAS, (Garmin G1000 / GFC700 Suite with SVT in later models) TIS, EMax, CMax, ADS-B
Engine
Manufacturer: Lycoming
Model: TIO-540-AE2A
Horsepower: 350 hp
Overhaul (HT): 2000 TBO (12 years)
Performance
Horsepower: 350 hp
Gross Weight: 4,340 lbs
Top Speed:
Empty Weight: 3,003 lbs
Cruise Speed: 215 kias
Fuel Capacity: 120 gal
Stall Speed (dirty): 58 kias
Range: 1,343 nm
 
Rate of Climb: 1,150
Rate of Climb (One Engine): 
Service Ceiling: 25,000
Ceiling (One Engine): 
 
Takeoff
Landing
Ground Roll: 1,087 ft
Ground Roll 1,020 ft
Takeoff Roll Over 50 ft: 2,090 ft
Landing Roll Over 50 ft: 1,968 ft
History
In October 2007 Piper announced the Matrix, an unpressurized version of the PA46-350P Malibu Mirage. The new model has been designated as the PA-46R-350T, indicating retractable landing gear, 350 horsepower, and turbocharging.
Piper Aircraft is marketing the Matrix as a cabin-class aircraft for Cirrus SR-22 and Cessna 400 owners to step up to. With the Matrix's luxurious six-place cabin, club seating, airstair door and it's big plane look and feel, it's easy to see why owners would want a Matrix over the Cirrus or Cessna.
Standard equipment on the Matrix includes a built-in oxygen system, Avidyne Entegra glass cockpit, S-Tec 55X autopilot, and air conditioning.
Major options on the Matrix are a de-ice system, an "Enhanced Situational Awareness Package", speed brakes, an avionics package featuring the Avidyne TAS610 dual antenna traffic advisory system, GWX-68 Weather Radar, and, beginning in 2010, the Garmin G1000 avionics system with twin 10″ PFD's and a 15″ MFD and Synthetic Vision.
The Matrix's powerplant is a turbocharged Lycoming TI0-540-AE2A producing 350 hp. The aircraft's performance includes a cruise speed of 215 knots at 25,000 feet, 215 knots at 17,500 feet and 188 knots at 12,000 feet.Maximum takeoff weight is 4,340 lb and an empty weight of 2,937 lb giving a standard useful load of 1,421 lb.
Matrix deliveries began in early 2008 and ended in 2016.
Design
The Matrix is essentially a Mirage without the complex pressurization system that might increase workload for newer pilots. Removing all of the pressurization hardware from the airframe bumped up the useful load up to 1421 pounds, while fuel capacity remains the same. Because the cabin isn't pressurized, Piper saved money and weight by installing thinner Plexiglass. There's not as much glass in the Matrix because the airframe was designed for pressurization.
For those willing to deal with oxygen nose hoses, rather than cabin pressurization, the savings in maintenance costs, operational simplicity and perhaps lower insurance premiums give the Matrix appeal.
Further Development
On the ramp, the Matrix is impressive. It sits high on its beefy, retractable landing gear, and the two-section airstair door keeps passengers from having to climb up on a wing to get into the airplane. It's easy to open and close, and plenty big enough to allow easy loading of passengers and bags. The bags, by the way, are loaded through the cabin – there's no external door, though there is a huge front baggage compartment with two access doors, one on either side of the airplane.
In the cabin there's a little less structure, as the emergency oxygen system needed in the pressurized airplanes is gone, so there's a new space between the rear facing and pilot's/copilot's seats to toss charts or bags or jackets. Up front you're reminded, once again, that you're in a different class of airplane. There's plenty of room in the cabin, however, the access and headroom for very tall pilots is somewhat limited. Piper addressed this by using lower-profile, high-density foam seat cushions which are very comfortable.
Further Design
The layout of the panel is extremely nice with an overhead switch panel as in larger aircraft and jets with another subpanel just to the right of the MFD for anti-icing and environmental controls.
Pilots of smaller, four-place aircraft should have no trouble transitioning to avionics and performance of the Piper Matrix.
CLICK HERE READ MORE ABOUT THE PIPER MATRIX AT PLANE AND PILOT MAGAZINE
CLICK HERE VIEW A PIPER MATRIX BROCHURE