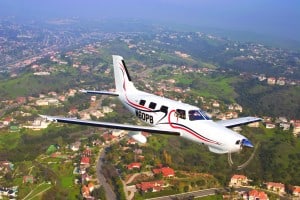 Piper Malibu
The Piper Malibu is a single turbocharged engine, non-pressurized, produced by Piper from 1984 until 1988. Model PA46-310P seats up to 5 passengers and 1 pilot.
Specifications
Exterior Dimensions
Wing span: 43 ft
Length: 28 ft 4 in
Height: 11 ft 3 in
Avionics
Dual Digital Nav/Coms, 2 axis autopilot, Known-ice, air conditioning, ADS-B
Engine
Manufacturer: Continental
Model: TSIO-520-BE
Horsepower: 310 hp
Overhaul (HT): 2000 TBO (12 years)
Performance
Horsepower: 310.00
Gross Weight: 4,100
Top Speed: 203
Empty Weight: 2,460
Cruise Speed: 187
Fuel Capacity: 120
Stall Speed (dirty): 50
Range: 1,261
 
Rate of Climb: 1,143
Rate of Climb (One Engine):
Service Ceiling: 25,000
Ceiling (One Engine):
 
Takeoff
Landing
Ground Roll: 1,440
Ground Roll 1,070
Takeoff Roll Over 50 ft: 2,025
Landing Roll Over 50 ft: 1,800
History
The Piper PA-46 Malibu and Matrix are a family of American light aircraft manufactured by Piper Aircraft of Vero Beach, Florida. Early Malibus were all piston-engined, but a turboprop version, introduced as the Malibu Meridian but now called the M500, is also available. Currently, Piper offers the M350, M500, and M600 in the PA-46 family.
The PA-46 was the third single-engined piston aircraft with a pressurized cabin to reach the market, after the Mooney M22 and Cessna P210 Centurion, and the only one still in production.
Development
Work on the PA-46 began in the late 1970s, with a prototype (the PA-46-300T) first flying on November 30, 1979. The type was announced in November 1982, apparently to compete with Cessna's newest creation of the era, the P210 Centurion. Like the Centurion, the Malibu was to feature cabin pressurization 5.5 psi, a feature not included on the prototype.
Further Development
The first example of the initial production version flew in August 1982, and FAA certification was obtained in September 1983. Deliveries started two months later. 404 aircraft with Continental TSIO-520 engines were built before this model was replaced in production by the PA-46-350P Malibu Mirage.
The PA-46-310P is powered by a Continental TSIO-520BE engine rated at 310 hp. The PA-46-310P has lower fuel consumption, greater range, and the ability to cruise at "lean-of-peak." The PA-46-310P has a maximum cruising range of 1,550 nmi (with reserves), while the PA-46-350P initially had a maximum cruising range of only 1,055 nautical miles, although this is now increased to 1,345 nautical miles.
The Malibu has set several world speed records: Seattle to New York set November 23, 1987 at 259.27 mph; Detroit to Washington, DC set January 4, 1989 at 395.96 mph; and Chicago to Toronto set on January 8, 1989 at 439.13 mph . All three records were set by Steve Stout in his 1986 Malibu N9114B.
The Continental TSIO-520-BE powered Malibu was discontinued in 1988 following a series of incidents and accidents attributed to engine failures. One such accident resulted in a settlement in which Teledyne Continental Motors paid $32,125,000 to a pilot injured in the crash of a Malibu.