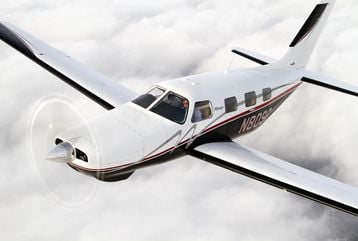 Piper Malibu Mirage
The Piper Malibu Mirage is a single turbocharged engine, pressurized, retractable gear aircraft produced by Piper from 1989 until 2016. Model PA46-350P seats up to 5 passengers and 1 pilot.
Specifications
Exterior Dimensions
Wing span: 43 ft
Length: 28 ft 8 in
Height: 11 ft 6 in
Avionics
Dual digital navcoms, transition to Garmin in `99, Avidyne in 2004, 2-ax AP, known-ice, air, ADS-B
Engine
Manufacturer: Lycoming
Model: TIO-540-AE2A
Horsepower: 350 hp
Overhaul (HT): 2000 TBO (12 years)
Performance
Horsepower: 350.00
Gross Weight: 4,300
Top Speed: 232
Empty Weight: 2,790
Cruise Speed: 201
Fuel Capacity: 120
Stall Speed (dirty): 60
Range: 1,261
 
Rate of Climb: 1,218
Rate of Climb (One Engine):
Service Ceiling: 25,000
Ceiling (One Engine):
 
Takeoff
Landing
Ground Roll: 1,530
Ground Roll 1,018
Takeoff Roll Over 50 ft: 2,375
Landing Roll Over 50 ft: 1,964
History
Production of the Malibu Mirage commenced in October 1988 for the 1989 model year. New features included a more powerful Lycoming TIO-540-AE2A 350 hp engine and a new wing. Various changes have occurred over the model years. Earlier models had an all-King panel and later this became largely Garmin, the Garmin G1000 glass cockpit is now standard.
In 1995, the pilot's windshield became a glass assembly (earlier it had been acrylic glass with a heat strip overlay). In 1996, numerous switches were moved to an overhead console. In 1999, the Mirage gained the strengthened wing designed for the turboprop Meridian.
Development
Work on the PA-46 began in the late 1970s, with a prototype (the PA-46-300T) first flying on November 30, 1979. The type was announced in November 1982, apparently to compete with Cessna's newest creation of the era, the P210 Centurion. Like the Centurion, the Malibu was to feature cabin pressurization 5.5 psi, a feature not included on the prototype.
Further Development
Piper Aircraft's top-of-the-line piston-powered M-Class Mirage was named "Best of the Best Personal Aircraft for 2014" by the Robb Report.
"A pressurized cabin, six seats, and a full-size air-stair door are unusual features for a piston-powered single-engine aircraft, but they are part of the package with the Piper Mirage," wrote the luxury lifestyle magazine.
"While the plane is designed primarily for utility and efficiency, Piper did not overlook comfort. The cabin features roomy leather-upholstered fold-down club seats, electric outlets for personal devices, reading lights, and an easily accessible interior baggage compartment," according to the publication, dated June 1, 2014.
"The cockpit is equipped with Garmin's G1000 avionics suite, synthetic vision, ice protection, and a terrain warning system. The efficient Lycoming engine provides the Mirage with a range of 1,500 miles and a top speed of 245 mph."