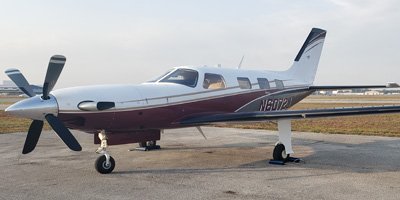 Piper Malibu Meridian
The Piper Malibu Meridian is a single turboprop engine, pressurized, retractable gear aircraft produced by Piper from 2001 until 2015. Model PA46-500T seats up to 5 passengers and 1 pilot.
Specifications
Exterior Dimensions
Wing span: 43 ft
Length: 29 ft 7 in
Height: 11 ft 4 in
Avionics
Pilot and copilot Meggitt EFIS, Dual GNS 530s, Avidyne package on 2006 & up, G1000 on 2009 & up, 3-ax AP, radar, TAWS B, ADS-B
Engine
Manufacturer: Pratt & Whitney
Model: PT6A-42A
Horsepower: 500 hp
Overhaul (HT): 3600 TBO (Average OH $325,000)
Performance
Horsepower: 500.00
Gross Weight: 5,902
Top Speed: 
Empty Weight: 3,406
Cruise Speed: 260
Fuel Capacity: 170
Stall Speed (dirty): 60
Range: 1,000 nm
 
Rate of Climb: 1,556
Rate of Climb (One Engine):
Service Ceiling: 30,000
Ceiling (One Engine):
 
Takeoff
Landing
Ground Roll: 1,650
Ground Roll 1,020
Takeoff Roll Over 50 ft: 2,438
Landing Roll Over 50 ft: 2,110
History
In 1997, Piper announced its intention to market a turboprop-powered version of the Malibu, and flew a prototype the following year powered by a Pratt & Whitney Canada PT6A-42A of 500 shp. Certification was achieved in September 2000 and deliveries began in November that year. Changes made to allow for turboprop power include larger wings and tail surfaces. In 2009, Piper began offering the Meridian with a three-screen version of the Garmin G1000 including the Garmin GFC 700 autopilot as a replacement for the Avidyne Entegra system.
Piper added wing root filets to increase wing area and 342 lb of fuel capacity, a larger tailplane and reinforced wing spar and landing gear to raise MTOW to 4,850 lb then 5,092 lb from 2003. For a 1,000 nmi trip, block fuel is 985 lb at 233 kn block speed, while its maximum cruise speed is 260 kn and a useful load of 1698 lbs.
Development
The Piper Meridian is a prime example of when performance meets efficiency. The Pratt & Whitney PT6A-42A turboprop engine allows for notable speed and agility, with 500 horses pulling passengers to altitude with ease. Holding the title of both lowest fuel burn and lowest acquisition cost in its class, the Meridian also displays an unmatched value.
Search for Piper Malibu Meridian Aircraft for sale now!