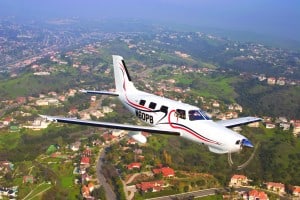 The Piper Malibu Aircraft: Soaring Above Expectations
The Piper Malibu is a widely recognized name in the world of aviation, and for good reason. This versatile aircraft, produced by Piper Aircraft, has become a symbol of efficiency, innovation, and comfort. Let's dive into the fascinating details of this remarkable airplane.
HISTORY
The Malibu was introduced by Piper Aircraft in 1983, targeting the general aviation market, particularly for personal and business use.
Milestones
1983: Introduction of the original Malibu
1989: Introduction of the Malibu Mirage with upgraded engines
2001: Launch of the Malibu Meridian, a turboprop variant
DESIGN
The Malibu is renowned for its sleek design and well-thought-out structure.
Wingspan: 43 feet (13 meters)
Length: 28.3 feet (8.6 meters)
Weight: 4,300 pounds (1,950 kg) maximum takeoff weight
Seating Capacity: Six seats, including the pilot
PERFORMANCE
The Malibu is a high performer in various domains:
Top Speed: 235 knots (435 km/h)
Range: 1,550 nautical miles (2,871 km)
Altitude: Maximum operating altitude of 25,000 feet (7,620 meters)
Fuel Efficiency: 20 gallons per hour (75.7 L/h)
TECHNOLOGY
The Malibu is equipped with cutting-edge technology, setting it apart from other models:
Avionics: Advanced Garmin G1000 NXi avionics suite
Propulsion: Equipped with a Continental TSIO-520-BE engine or Pratt & Whitney PT6A-42A (in Meridian variant)
Safety Systems: Enhanced safety features including weather radar and traffic collision systems
VARIANTS
Malibu Mirage: Upgraded variant with Lycoming TIO-540-AE2A engine
Malibu Meridian: Turboprop variant with enhanced performance
OPERATORS
The Piper Malibu is used by:
Various private owners for personal and business travel
Flight training schools
Charter services
Conclusion
The Piper Malibu continues to be a shining example of innovation and excellence in aviation. Its remarkable performance, stunning design, and advanced technology make it an attractive choice for a broad range of operators. Share this fascinating story with anyone interested in aviation.
Detailed Specifications
| Feature | Details |
| --- | --- |
| Engine | Continental TSIO-520-BE |
| Wingspan | 43 feet (13 meters) |
| Length | 28.3 feet (8.6 meters) |
| Range | 1,550 nautical miles (2,871 km) |
| Top Speed | 235 knots (435 km/h) |
| Seating | Six seats |
| Fuel Efficiency | 20 gallons per hour (75.7 L/h) |
Discover the Piper Malibu and its significant contribution to aviation history. Happy flying!