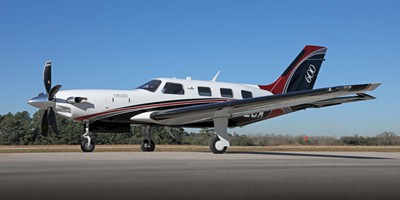 The Piper M600 Aircraft – Revolutionizing Personal and Business Aviation
The Piper M600 is an exceptional aircraft that redefines the standard for both personal and business travel. Manufactured by Piper Aircraft, it was first introduced in 2015, extending the capabilities of its M-Class predecessors. Intended for various uses including business, leisure, and training, the M600's elegant design and state-of-the-art technology make it a fascinating aircraft to explore.
HISTORY
The Piper M600 stems from a lineage of successful M-Class aircraft, with the first model introduced by Piper Aircraft back in the 1960s. The M600 variant, launched in 2015, received its FAA certification in 2016, marking a new era for Piper Aircraft.
Development: A two-year effort to create an aircraft that offered more range, speed, and payload.
Production: Continued enhancements have kept the M600 at the forefront of its class.
DESIGN
The M600 design is characterized by its sleek profile and attention to detail.
Wingspan: 43 ft (13.1 m)
Length: 29 ft 7 in (9.02 m)
Weight: Maximum Takeoff Weight of 6,000 lbs (2,722 kg)
Seating Capacity: Up to 6 passengers including pilot
PERFORMANCE
The M600 offers an impressive performance that caters to diverse flight requirements.
Top Speed: 274 knots
Range: 1,484 nautical miles
Altitude: Maximum operating altitude of 30,000 feet
Fuel Efficiency: Enhanced by the Pratt & Whitney PT6A-42A engine, providing better fuel consumption
TECHNOLOGY
Equipped with groundbreaking technologies, the M600 is a marvel in aviation.
Avionics: Garmin G3000 avionics suite offers touchscreen control
Propulsion: Driven by the advanced Pratt & Whitney PT6A-42A engine
Safety Systems: Enhanced safety with Electronic Stability & Protection (ESP) system
VARIANTS
The M600 offers specialized variants to cater to different market needs.
M600/SLS: Equipped with Garmin's Autoland system for enhanced safety
OPERATORS
Notable operators include flight schools, private owners, and small charter companies, all utilizing the M600 for its efficiency and comfort.
CONCLUSION
The Piper M600 has redefined aviation in its class by incorporating sleek design, powerful performance, and innovative technology. Its impact on both personal and business aviation makes it a significant player in aviation history. Share this post with those passionate about aviation, and explore this aircraft's marvel further.
SPECIFICATIONS
| Characteristic | Specification |
| --- | --- |
| Engine | Pratt & Whitney PT6A-42A |
| Dimensions | Wingspan: 43 ft, Length: 29 ft 7 in |
| Range | 1,484 nautical miles |
| Speed | 274 knots |
| Weight | 6,000 lbs (MTOW) |
| Altitude | 30,000 feet |