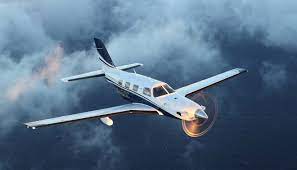 Soaring Through the Sky: The Piper M500 Aircraft
Welcome aboard as we take you on a journey through the fascinating world of the Piper M500. Renowned for its sophistication, style, and efficiency, the M500 is a marvel of aviation technology produced by the renowned manufacturer, Piper Aircraft. Introduced in 2015, this aircraft was designed to cater to the needs of discerning pilots and aviation enthusiasts who value performance, comfort, and technology. Now, let's explore the charm of this remarkable machine.
HISTORY
The M500 is the successor to the Piper Meridian, a product of Piper Aircraft's commitment to continuous innovation. Upon its introduction in 2015, it quickly gained popularity for its design enhancements, performance improvements, and inclusion of state-of-the-art avionics, all while maintaining a reasonable price point. With its advanced features and improvements, it has left a significant mark in the world of single-engine turboprop aircraft.
DESIGN
The M500 stands out for its robust, sleek design. With a wingspan of 43 feet and a length of 29.6 feet, it has a commanding presence on any runway. Its maximum takeoff weight stands at 5,092 pounds, balancing power and agility effectively. Designed to accommodate up to six occupants including the pilot, it offers a comfortable, luxurious flight experience for all passengers.
PERFORMANCE
The M500 isn't just about looks; it packs an impressive performance too. With a top speed of 260 knots and a maximum range of 1,000 nautical miles, it serves a multitude of short and long-haul flights effectively. Its operational altitude limit reaches an impressive 30,000 feet. Also noteworthy is its fuel efficiency, further elevating the aircraft's appeal for both private and commercial users.
TECHNOLOGY
The M500 is a testament to the technological advancements in the aviation industry. The highlight of its technological features is the advanced Garmin G1000 NXi avionics suite. This integrated avionics system brings high-resolution display and intuitive touch-screen controls to the cockpit, enhancing safety and operational efficiency. The M500 is also equipped with an Enhanced Automatic Flight Control System, ensuring a smooth, safe, and efficient flight experience.
VARIANTS
The M500 primarily comes in a single model. However, its sister aircraft, the M600, offers increased range, larger cabin, and a fully integrated autopilot system. The choice between the two typically comes down to individual requirements and preferences.
OPERATORS
The M500's remarkable capabilities and competitive price point have made it a favorite among private owners, charter companies, and flight training schools worldwide.
In conclusion, the Piper M500 represents a blend of history, design, performance, and cutting-edge technology, truly deserving its place in the annals of aviation. So, whether you're an aviation enthusiast, an aspiring pilot, or simply someone intrigued by the world of flight, the Piper M500 is a topic worth exploring and sharing.
PIPER M500 SPECIFICATIONS
Manufacturer: Piper Aircraft
Length: 29.6 feet
Wingspan: 43 feet
Height: 11.3 feet
Seating Capacity: Up to 6 (including the pilot)
Max Takeoff Weight: 5,092 pounds
Top Speed: 260 knots
Range: 1,000 nautical miles
Service Ceiling: 30,000 feet
Avionics: Garmin G1000 NXi
Engine: Pratt & Whitney PT6A-42A