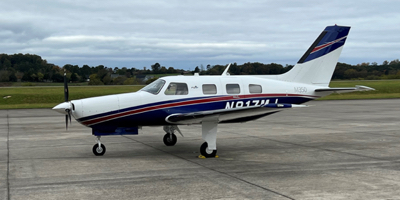 Flying with Elegance: The Piper M350 Aircraft
The Piper M350, an advanced aircraft model, represents a fusion of performance and technology. Manufactured by Piper Aircraft, it continues to stand as an emblem of excellence in the aviation industry. Let's take a detailed journey into the world of the Piper M350, exploring its history, design, performance, and much more.
HISTORY
The M350 has a rich heritage in the field of aviation.
Manufacturer: Piper Aircraft
Introduction Date: Introduced in 2015, the M350 was an evolution of previous Piper models, providing enhanced capabilities and innovations.
Intended Use: Mainly used for personal and business travel, the M350 found its niche in providing comfort, efficiency, and safety.
Notable Milestones
Development of Safety Systems: Introduction of the first Garmin G1000 NXi integrated avionics suite.
Achievement of Range: Set new standards for range in its class.
DESIGN
The M350's design incorporates aesthetics with performance.
Wingspan: 40.8 ft (12.4 m)
Length: 29.6 ft (9.0 m)
Weight: Maximum Takeoff Weight of 4,340 lb (1,969 kg)
Seating Capacity: Comfortably seats 6 passengers
PERFORMANCE
Performance is where the M350 truly shines.
Top Speed: 213 knots
Range: 1,343 nautical miles
Altitude: Maximum cruising altitude of 25,000 ft
Fuel Efficiency: Enhanced fuel efficiency compared to its counterparts
TECHNOLOGY
Innovation is a cornerstone of the M350.
Avionics: Features Garmin G1000 NXi integrated avionics suite
Propulsion: Powered by Lycoming TIO-540-AE2A, 350-horsepower engine
Safety Systems: Includes enhanced safety features such as Electronic Stability Protection (ESP)
VARIANTS
The M350 is part of the M-Class series with various customization options to suit different needs.
OPERATORS
Various private owners, flight schools, and business operators use the M350 for its luxurious comfort and reliable performance.
SUMMARY
The Piper M350 is not just an aircraft; it's a statement in aviation history. Its blend of technology, performance, and design has made it a sought-after aircraft for personal and professional use. Share this post with fellow aviation enthusiasts and spread the love for this marvelous machine.
DETAILED SPECIFICATIONS
| Feature | Specification |
| --- | --- |
| Engines | Lycoming TIO-540-AE2A |
| Dimensions | 29.6 ft x 40.8 ft |
| Range | 1,343 nautical miles |
| Top Speed | 213 knots |
| Seating Capacity | 6 passengers |
| Fuel Efficiency | Enhanced |
| Altitude | 25,000 ft |
---
The Piper M350 continues to stand as an embodiment of innovation and elegance. Its role in modern aviation remains unparalleled, setting the bar high for the competitors to follow.