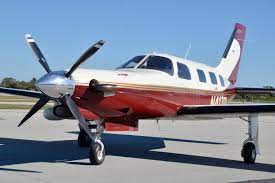 The Piper JetPROP – A Fusion of Efficiency and Innovation
The Piper JetPROP is an impressive aircraft model that epitomizes a blend of innovation and performance. Manufactured by Piper Aircraft, the JetPROP's introduction in the 1990s opened a new era in aviation. Designed for personal, business, and light utility applications, this aircraft has become a fascinating case study for aviation enthusiasts and professionals alike. Let's delve into the remarkable features that make this aircraft so unique and interesting.
HISTORY
The Piper JetPROP's journey began with the vision of enhancing the popular Piper Malibu and Malibu Mirage aircraft with turbine engine conversions. This vision led to a collaboration with JetPROP LLC, resulting in the JetPROP DLX model's introduction in 1997.
Notable milestones in the JetPROP's history include:
Conversion Program: The development of a turbine conversion program for existing Piper Malibu and Mirage owners.
Certification: Obtaining various certifications for flying in different parts of the world, emphasizing its global appeal.
DESIGN
The design of the Piper JetPROP features several key attributes that make it a sought-after aircraft:
Wingspan: 43 feet
Length: 28.3 feet
Weight: Maximum takeoff weight of 4,340 lbs
Seating Capacity: Comfortably seats six passengers
PERFORMANCE
The Piper JetPROP is known for its outstanding performance:
Top Speed: 270 knots
Range: 1,000 nautical miles
Altitude: Maximum cruising altitude of 27,000 feet
Fuel Efficiency: Notable fuel efficiency with its Pratt & Whitney PT6A-34/35 turbine engine
TECHNOLOGY
Innovation is at the heart of the Piper JetPROP:
Avionics: Equipped with state-of-the-art Garmin G1000 NXi avionics suite
Propulsion: The PT6A turbine engine provides reliable and efficient power
Safety Systems: Enhanced safety features including weather radar, autopilot, and terrain awareness system
VARIANTS
The main variant of this aircraft is the JetPROP DLX, customized with different avionics packages and interior options to suit the owner's preferences.
OPERATORS
The Piper JetPROP is mainly operated by:
Private Owners: For personal and business travel
Flight Schools: As an advanced training aircraft
Charter Companies: Offering exclusive travel experiences
Conclusion
The Piper JetPROP represents a significant chapter in aviation history. Its seamless integration of performance, design, and technology has marked it as a remarkable aircraft. The JetPROP continues to inspire with its elegance, efficiency, and reliability. Share this post with fellow aviation enthusiasts and discover the thrill of the Piper JetPROP!
Specifications and Performance Data
| Characteristic | Detail |
| --- | --- |
| Engine | Pratt & Whitney PT6A-34/35 |
| Dimensions | Wingspan: 43 ft, Length: 28.3 ft |
| Range | 1,000 nautical miles |
| Top Speed | 270 knots |
| Altitude | 27,000 ft |
| Weight | 4,340 lbs (MTOW) |
| Seating | 6 passengers |