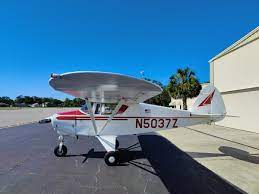 The Piper Colt is an aircraft that has stood the test of time. With its distinct design and exceptional performance, this two-seat aircraft remains a favorite among pilots and aviation enthusiasts alike. Let's delve into the various aspects that make the Piper Colt an interesting and significant aircraft.
HISTORY
The Piper Colt was manufactured by Piper Aircraft and was introduced to the public in 1961. It was intended for use as a personal and flight training aircraft.
Notable Milestones
Introduction Date: 1961
End of Production: 1964
Total Units Produced: Over 2,000
The aircraft's development was derived from the earlier Piper PA-22 Tri-Pacer but with reduced seating to lower costs and make it more accessible to the market.
DESIGN
The Piper Colt was uniquely designed with its pilots and passengers in mind.
Wingspan: 29 feet 3 inches
Length: 20 feet 6 inches
Weight: 1,450 pounds maximum gross weight
Seating Capacity: 2
Its tricycle landing gear and side-by-side seating layout provide an intuitive flying experience.
PERFORMANCE
The Piper Colt offers excellent performance for its category.
Top Speed: 123 mph
Range: 450 miles
Altitude: 11,000 feet
Fuel Efficiency: 5.5 gallons per hour
The combination of its efficient fuel consumption and robust performance made it a popular choice among private pilots.
TECHNOLOGY
While not necessarily cutting-edge by today's standards, the Piper Colt featured technologies that were innovative for its time.
Avionics: Basic but functional, suitable for VFR flying
Propulsion: Powered by a Lycoming O-235 engine, providing 108 horsepower
Safety Systems: Simple and reliable mechanical systems
VARIANTS
The Piper Colt was mainly produced in one standard model, aimed at private owners and flight schools.
OPERATORS
Being a light personal aircraft, the Piper Colt was primarily used by private owners and small flying clubs. Its affordability and ease of use made it a popular choice for flight training.
Summary
The Piper Colt represents a significant chapter in aviation history. Its unique blend of design, performance, and technological advancement made it a notable aircraft of its time. If you are an aviation enthusiast or simply curious about the fascinating world of flying, the Piper Colt is worth exploring further.
Share this post with others who may be interested in this classic piece of aviation history!
Specifications and Performance Data
| Feature | Details |
| --- | --- |
| Engine | Lycoming O-235 |
| Dimensions | 20 ft 6 in (length), 29 ft 3 in (wingspan) |
| Range | 450 miles |
| Top Speed | 123 mph |
| Altitude | 11,000 feet |
| Fuel Efficiency | 5.5 gallons per hour |
| Seating Capacity | 2 |
| Weight | 1,450 pounds |