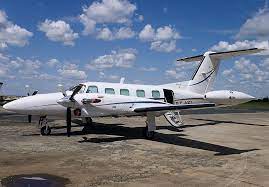 The Piper Cheyenne III – An Icon of Versatility and Performance
The Piper Cheyenne III is a remarkable aircraft model that stands out in the world of aviation. This twin-turboprop aircraft is not only a symbol of luxury but also a marvel of engineering and design. Let's delve into the details of this fascinating aircraft.
INTRODUCTION
Manufactured by Piper Aircraft, the Piper Cheyenne III was introduced in 1980 as an upgrade to the company's existing line of business aircraft. Intended for corporate, charter, and private use, the Cheyenne III offered a new level of performance and comfort, making it one of the most desired planes in its class.
HISTORY
The Piper Cheyenne III was born from the need for a more advanced and versatile aircraft that could serve various purposes.
Development: Began in the late 1970s as an evolution of the earlier Cheyenne models.
Introduction: Officially launched in 1980.
Milestones: Featured significant enhancements in aerodynamics, engine performance, and passenger comfort.
DESIGN
The Cheyenne III's design was a breakthrough in many aspects.
Wingspan: 42.7 feet
Length: 43.6 feet
Weight: Maximum takeoff weight of 11,200 pounds
Seating Capacity: Typically seats 6-9 passengers plus crew
PERFORMANCE
This aircraft shines in performance and reliability.
Top Speed: 326 knots
Range: 1,875 nautical miles
Altitude: Maximum operating altitude of 33,000 feet
Fuel Efficiency: Enhanced fuel efficiency due to optimized engine performance
TECHNOLOGY
The Cheyenne III boasts some innovative technologies.
Avionics: Advanced avionic systems for navigation and communication
Propulsion: Equipped with Pratt & Whitney PT6A-41 engines
Safety Systems: Enhanced safety features, including advanced autopilot systems
VARIANTS
There are several variants, including the Cheyenne IIIA, which offers increased weight capacity and improved avionics.
OPERATORS
Corporate Use: Popular among business executives
Charter Services: Used by charter airlines for on-demand services
Private Owners: A favorite among private aircraft owners
CONCLUSION
The Piper Cheyenne III is a significant model in aviation history. With its innovative design, robust performance, and luxurious comfort, it has made a lasting impact in the aviation world. If you're fascinated by this remarkable aircraft, be sure to share this post with fellow aviation enthusiasts.
DETAILED SPECIFICATIONS
| Feature | Specification |
| --- | --- |
| Engines | 2x PT6A-41 |
| Wingspan | 42.7 feet |
| Length | 43.6 feet |
| Range | 1,875 nm |
| Top Speed | 326 knots |
| Seating | 6-9 passengers |
| Takeoff Weight | 11,200 pounds |
| Altitude | 33,000 feet |
Feel the excitement of flight with the Piper Cheyenne III – a true icon of the skies!