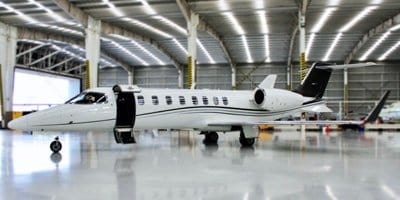 LEARJET 45
Welcome to an exclusive tour of one of the most iconic aircraft in aviation history. Manufactured by Bombardier Aerospace, this exquisite model was first introduced to the skies in 1995 and has since been the epitome of private air travel and business aviation.
Renowned for its superior performance, innovative technology, and luxurious design, the LJ45 has redefined what it means to travel by air. Let's explore the riveting journey of this aircraft, its unique features, and why it continues to charm aviation enthusiasts.
HISTORY
The Lear 45 story is one marked by innovation and breakthroughs. Conceived as a replacement for the popular Learjet 35, it was designed to retain the same performance standards while offering increased space and comfort. From its first flight in 1995 to its official certification by the FAA in 1997, it has seen consistent improvements in design, technology, and functionality.
DESIGN
No detail was too small in crafting this aircraft. With a wingspan of 47.8 feet and a length of 58 feet, the aircraft has the perfect balance of size and efficiency. It boasts a maximum takeoff weight of 21,500 lbs and can comfortably accommodate up to 9 passengers and 2 crew members, providing both space and comfort for an unmatched flying experience.
PERFORMANCE
The Lear 45 is a testament to impressive aviation performance. It has a top speed of Mach 0.81 (465 knots, 534 mph), can travel a maximum range of 2,049 nautical miles, and ascend to an altitude of 51,000 feet. Its fuel efficiency and superior performance have made it a popular choice in the aviation industry.
TECHNOLOGY
This model Learjet is a blend of luxury and high-end technology. The aircraft's avionics package includes a Honeywell Primus 1000 EFIS system, a digital autopilot, and an engine indication and crew alerting system (EICAS). Its safety features include an Enhanced Ground Proximity Warning System (EGPWS) and a Traffic Collision Avoidance System (TCAS).
VARIANTS
The Learjet 45 has two main variants, the Learjet 45XR, and the Learjet 40. The 45XR offers increased takeoff weights, faster cruise speeds and faster time-to-climb rates as compared to the base model. The Learjet 40 is a shortened version of the 45 model offering lesser passenger seating capacity.
OPERATORS
The Learjet 45 is favored by numerous operators around the globe, including many private charter companies, corporate entities, and air ambulance services. Notably, the Irish Air Corps operates the Learjet 45 for governmental and medical evacuation duties.
In summary, the Learjet 45's blend of design sophistication, performance excellence, and technological advancements has cemented its place in aviation history. Share this fascinating journey with others who appreciate the art of aviation.
---
| SPECIFICATION | LEARJET 45 |
| --- | --- |
| Engines | 2x Honeywell TFE731-20 |
| Wingspan | 47.8 feet |
| Length | 58 feet |
| Maximum Takeoff Weight | 21,500 lbs |
| Seating Capacity | 9 Passengers |
| Top Speed | Mach 0.81 |
| Range | 2,049 NM |
| Service Ceiling | 51,000 feet |
---
Spread the word about this iconic aircraft and let's continue to celebrate the rich legacy of the Learjet 45.