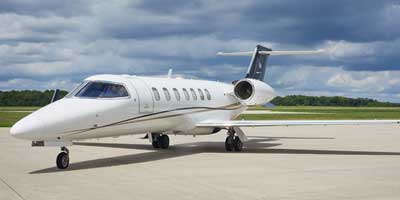 Learjet 40 – Redefining Private Jet Travel
Step into the fascinating world of aviation as we explore the marvel of engineering and design that is the Learjet 40. This remarkable aircraft has left an indelible mark in aviation history with its cutting-edge technology, impressive performance, and elegance.
LEARJET 40 – HISTORY
Ultimately produced by Bombardier Aerospace, is a member of the prestigious Learjet family, renowned for its sleek design and top-of-the-line performance. It made its first appearance in 2002, and was introduced to the aviation market in 2004. The aircraft was designed to cater to the business jet market, a niche that demands luxury, performance, and efficiency.
The Lear 40's introduction revolutionized private air travel. It fulfilled the promise of providing top-notch comfort, speed, and range, while delivering economic efficiency – all wrapped up in an attractive and luxurious package.
LEARJET 40 – DESIGN
It is the epitome of a compact, efficient design without compromising on luxury. With a wingspan of 47.7 feet and a length of 55.8 feet, it stands out as a compact and efficient design in the Learjet series.
The aircraft's interior can accommodate 6 to 7 passengers in exquisite comfort, making it a popular choice for corporate and private aviation. The cabin design allows for relaxation, business meetings, or even a well-deserved rest on longer journeys.
PERFORMANCE
Performance is where the Learjet 40 truly shines. Capable of reaching a top speed of Mach 0.81 (about 541 mph), it boasts a range of approximately 1,960 nautical miles, and can cruise at an altitude of up to 51,000 feet. The aircraft is also impressive in its fuel efficiency, making it a more economic choice without compromising on speed and comfort.
TECHNOLOGY
Technological innovation is at the heart of the Learjet 40. The aircraft features a Honeywell Primus 1000 avionics suite, which provides state-of-the-art flight management and navigation systems. Additionally, the aircraft employs FADEC (Full Authority Digital Engine Control) to manage its engines, ensuring optimal performance and reliability.
Safety is a paramount concern for any aircraft, and the Learjet 40 meets the highest standards. The advanced avionics and autopilot systems, along with the twin Honeywell TFE731-20AR-1B engines, provide a high degree of reliability and safety.
VARIANTS
The Learjet 40 has one primary variant, the Learjet 40XR. Introduced in 2006, the 40XR offers enhanced performance, with a slightly higher take-off weight and improved speed and range characteristics. These enhancements make the 40XR an even more attractive option for private and business aviation.
OPERATORS
The Learjet 40 and its variant 40XR are utilized worldwide by numerous private individuals, corporations, charter companies, and fractional ownership programs. Its elegance, comfort, and performance make it a preferred choice for efficient, luxurious private air travel.
In conclusion, the Learjet 40's rich history, outstanding design, superior performance, advanced technology, and broad operator base firmly establish it as an icon in private jet aviation. Whether you're an aviation enthusiast or simply curious about the world of private jets, the Learjet 40's story is sure to captivate your interest.
Do share this fascinating journey of the Learjet 40 with others who share your passion for aviation!
---
| Specification | Learjet 40 | Learjet 40XR |
| --- | --- | --- |
| Crew | 2 | 2 |
| Passenger Capacity | 6-7 | 6-7 |
| Length | 55.8 ft | 55.8 ft |
| Wingspan | 47.7 ft | 47.7 ft |
| Height | 14.1 ft | 14.1 ft |
| Max Take-off Weight | 20,350 lb | 21,000 lb |
| Cruise Speed | Mach 0.81 | Mach 0.81 |
| Range | 1,960 nautical miles | 2,099 nautical miles |
| Service Ceiling | 51,000 ft | 51,000 ft |
| Engine(s) | Honeywell TFE731-20AR-1B | Honeywell TFE731-20BR-1B |