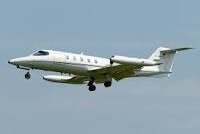 Soaring into Success: A Deep Dive into the Learjet 36
When it comes to private jet travel, one model has steadily proved its mettle over the decades, distinguishing itself in a sea of high-fliers: The Learjet 36. Manufactured by the Learjet division of the Canadian aerospace company Bombardier, the 36 came into the aviation spotlight in the 1970s and quickly established itself as a dominant force in the realm of private and business aviation.
LEARJET 36 – HISTORY
First introduced in 1973, the Learjet 36 is the direct descendant of the Learjet 35 but with an extended range. This makes it ideal for long-distance travel, thus broadening its appeal for international business professionals and private fliers seeking comfort and efficiency over great distances.
LEARJET 36 – DESIGN
Sleek and compact, the 36 is designed with a wingspan of 39.6 ft (12.04 m), and a length of 48.7 ft (14.83 m), the aircraft is a model of efficiency. It is relatively lightweight, with an empty weight of approximately 10,119 lbs (4,590 kg). In terms of seating capacity, it comfortably accommodates up to 6 passengers with an arrangement that offers optimal comfort for long-haul flights.
LEARJET 36 – PERFORMANCE
The Lear 36 is all about performance. Its top speed is impressive, reaching up to 541 mph (870 km/h), and it boasts a maximum range of 2,778 miles (4,473 km), making non-stop continental and cross-continental flights a reality. With a service ceiling of 45,000 feet (13,716 meters), it can easily overcome inclement weather, ensuring a smoother ride. Moreover, its excellent fuel efficiency made it an economically appealing option in the private and corporate aviation sectors.
LEARJET 36 – TECHNOLOGY
The 36 is not just about power and speed; it also incorporates advanced technology for its era. The aircraft features advanced avionics, a comprehensive navigation system, and a reliable propulsion system powered by two Honeywell TFE731-2 turbofan engines. Additionally, its safety systems, including fail-safe design features and redundancies, have always been a top priority, enhancing the aircraft's reliability.
VARIANTS
While the Lear 36 does not have significant variant models, it is closely related to the Learjet 35. The 35 has similar design elements and technology but with a shorter range due to a smaller fuel tank and more passenger seating.
OPERATORS
The 36 has found favor with a variety of operators, ranging from private owners and corporations to air charter services and even military entities. Many appreciate its range, comfort, and performance for executive travel and business needs. Some military organizations have used the aircraft for personnel transport and specialized missions.
In conclusion, the Learjet 36 has proven itself as an invaluable asset in the aviation world. Its unique combination of range, speed, comfort, and technological sophistication made it a standout in its class and a testament to the incredible advancements in the world of aviation.
Share this post with other aviation enthusiasts who might find the history and performance of the Learjet 36 as fascinating as we do.
Here are some detailed specifications of the Learjet 36 for those who are interested:
| Specification | Learjet 36 |
| --- | --- |
| Engine | 2x Honeywell TFE731-2 |
| Wingspan | 39.6 ft (12.04 m) |
| Length | 48.7 ft (14.83 m) |
| Empty Weight | 10,119 lbs (4,590 kg) |
| Range | 2,778 miles (4,473 km) |
| Top Speed | 541 mph (870 km/h) |
| Service Ceiling | 45,000 ft (13,716 meters) |