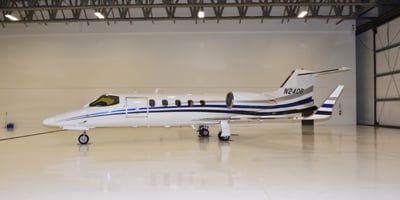 Soaring to New Heights: The Iconic Learjet 31 Story
The Learjet 31 – In the realm of aviation, there exists an aircraft that beautifully marries speed, sophistication, and seamless design.
INTRODUCTION
The Learjet 31 is a stellar creation by Learjet, a subsidiary of Bombardier. With its first flight on May 11, 1987, and introduction to the market in 1991, the 31 was designed to provide the perfect solution to corporate travel and executive charters. This high-performance jet brought together the speed of larger aircraft and the agility of smaller ones, leaving a lasting impression in the aviation industry.
HISTORY
The Lear 31 finds its roots in the Learjet 35, taking its wing from the 55 model and the fuselage from the 35/36 models. It represents a substantial refinement over previous models, with improved winglets and engines enhancing its performance, range, and speed. Production of the 31 ended in 2003, but its legacy continues to soar with an impressive 262 aircraft produced in its lifetime.
DESIGN
The Lear 31 measures 48.7 feet in length and has a wingspan of 43.8 feet. With a maximum takeoff weight of 15,500 pounds, it can comfortably seat up to 8 passengers. Its stand-out design feature is the delta fins at the base of the tail, contributing to stability, performance, and fuel efficiency.
PERFORMANCE
Known for its impressive speed, the 31 can reach a top speed of 529 mph. With a range of 1,455 miles and a service ceiling of 51,000 feet, it stands out amongst light business jets. Its fuel efficiency and cruising speed make it a practical and popular choice for medium-range travel.
TECHNOLOGY
The Learjet 31 boasts advanced Honeywell TFE731-2 turbofan engines and an upgraded avionics suite for enhanced performance and safety. The innovative winglet design improves fuel efficiency, while its state-of-the-art safety systems, including TCAS (Traffic Collision Avoidance System) and GPWS (Ground Proximity Warning System), enhance passenger safety.
VARIANTS
The primary variant of the Lear 31 is the Learjet 31A, introduced in 1990. With improvements in cruise speed, range, and avionics, the 31A variant has an increased maximum takeoff weight and superior digital avionics suite compared to the base model.
OPERATORS
Notable operators of the Lear 31 range from corporate entities to air charter services, such as Clay Lacy Aviation, and medical evacuation services. It has also found use in government agencies, including NASA and the Brazilian Air Force, for utility and transport roles.
CONCLUSION
The Learjet 31 represents a remarkable chapter in aviation history. Combining elegance, performance, and advanced technology, it continues to be a prominent figure in the skies. If you are an aviation enthusiast or know someone who is, be sure to share this post to spread the love for this iconic aircraft.
| Aircraft Specifications | Learjet 31 |
| --- | --- |
| Manufacturer | Learjet |
| First Flight | May 11, 1987 |
| Introduction | 1991 |
| Length | 48.7 ft |
| Wingspan | 43.8 ft |
| Max Takeoff Weight | 15,500 lbs |
| Seating Capacity | Up to 8 |
| Top Speed | 529 mph |
| Range | 1,455 miles |
| Service Ceiling | 51,000 ft |