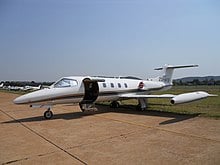 Soaring into History: Unveiling the Iconic Learjet 25
The sky is full of marvels, and one such marvel is the Learjet 25, an aircraft that continues to leave its mark on aviation history. This classic jet, brought into being by the ingenuity of Learjet – now a subsidiary of Bombardier – is worth exploring for any aviation enthusiast.
HISTORY
Introduced in 1967, the Learjet 25 was developed from the Learjet 24 and was built for the primary purpose of corporate travel. The aircraft was an immediate hit in the market, thanks to its unmatched speed and performance at the time. The production of this classic model ceased in 1982, yet it still remains a prominent figure in aviation history.
DESIGN
The Lear 25 stands as a testament to ingenious design. It features a 39.6 feet wingspan and an overall length of 47.7 feet. Weighing about 15,000 pounds, this compact aircraft was designed for optimal performance without sacrificing luxury, comfortably accommodating eight passengers and two crew members.
PERFORMANCE
This aircraft is a speedster's dream come true. Powered by two General Electric CJ610-8A turbojet engines, it can reach a top speed of 545 mph and a service ceiling of 45,000 feet. With a range of approximately 1,830 miles, it offered the ability to cover long distances with fewer fuel stops, making it a popular choice for business travel.
TECHNOLOGY
The Lear 25 was equipped with the most advanced technology of its era. Its avionics system featured navigational aids, an autopilot system, and weather radar. The propulsion system, the GE CJ610-8A engines, provided superior thrust and fuel efficiency. Moreover, the aircraft's safety systems, such as the dual-wheel landing gear and anti-skid brakes, added to its appeal.
VARIANTS
The 25 has several variants, each with its own unique features. The Learjet 25B featured improved engines and a higher gross weight. The Learjet 25D introduced a larger cabin with more headroom and legroom, while the Learjet 25G was noted for its extended range.
OPERATORS
This jet has been favored by various operators around the world. Notably, the Mexican Air Force uses the Learjet 25 as a VIP transport, while many private and corporate operators use this aircraft for its speed, comfort, and reliability.
In conclusion, the Learjet 25 is an aircraft that stands out for its impressive performance and innovative design. It serves as a reminder of how far aviation technology has come, and how far it might go. Whether you are an aviation enthusiast or just curious, don't forget to share this post with others who might appreciate the rich history and remarkable features of the Learjet 25.
---
Learjet 25 Specifications and Performance Data
| Feature | Specification |
| --- | --- |
| Manufacturer | Learjet |
| Introduction Date | 1967 |
| Length | 47.7 feet |
| Wingspan | 39.6 feet |
| Weight | 15,000 pounds |
| Seating Capacity | 8 passengers |
| Top Speed | 545 mph |
| Service Ceiling | 45,000 feet |
| Range | 1,830 miles |
| Engines | GE CJ610-8A |
Remember, the sky is not the limit, it's just the beginning!