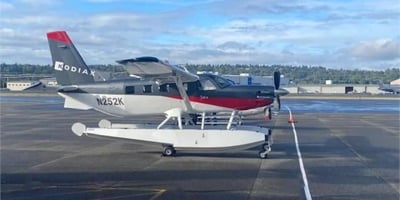 Kodiak: The Bear of the Skies – An Unparalleled Tale of Versatility and Power
The Kodiak aircraft, a veritable titan in the world of aviation, is an impressive marvel of design, performance, and technological innovation. Manufactured by the reputable Quest Aircraft Company, the Kodiak was first introduced in 2007 and is primarily intended for utility operations in demanding environments. The Kodiak's robustness, versatility, and notable attributes truly set it apart from other aircraft in its class.
HISTORY
The development of the Kodiak started in the early 2000s with the intention of creating a tough, reliable plane capable of performing under harsh conditions. Its maiden flight took place in 2004, and after a few years of rigorous testing and improvements, the Kodiak was officially introduced to the market in 2007. Over the years, the Kodiak has continually evolved, with newer variants boasting enhanced features and improved performance.
DESIGN
The Kodiak is a single-engine, high-wing, turboprop airplane. It measures approximately 34 feet in length and has a wingspan of about 45 feet. The Kodiak's design also allows for a high maximum takeoff weight and seating capacity, accommodating up to 10 passengers or substantial cargo. The aircraft's sturdily-built structure is designed to withstand the rigors of rough terrain and inclement weather, a testament to its reliability and resilience.
PERFORMANCE
Equipped with a powerful Pratt & Whitney PT6A-34 turbine engine, the Kodiak aircraft offers an impressive performance. It can reach top speeds of up to 183 knots and boasts a range of around 1,132 nautical miles. The Kodiak can also operate at high altitudes, with a certified ceiling of 25,000 feet. Furthermore, its short take-off and landing (STOL) capabilities and excellent fuel efficiency make the Kodiak an ideal choice for a range of operations.
TECHNOLOGY
Among the Kodiak's noteworthy features are its state-of-the-art avionics, which includes the Garmin G1000 NXi suite, providing pilots with unparalleled situational awareness and control. The aircraft's innovative propulsion and safety systems, such as TKS anti-ice system and AmSafe airbag seatbelts, set it apart from other models, offering enhanced safety and reliability.
VARIANTS
There are multiple variants of the Kodiak aircraft, each designed with specific uses in mind. For instance, the Kodiak 100 Series II, the latest model, comes with improved avionics, an increased landing weight, and the option for a 29-inch high-flotation tire kit, perfect for off-field operations.
OPERATORS
The Kodiak is used worldwide by a variety of operators, including commercial airlines, humanitarian organizations, and military entities. Its versatility allows it to be used for passenger transport, cargo delivery, medevac services, and even military operations.
In conclusion, the Kodiak is not just another aircraft – it's a significant player in aviation history, a testament to technological advancements and aeronautical innovation. Its power, versatility, and high performance truly make it the 'Bear of the Skies'.
---
Kodiak Aircraft Specifications
| Specification | Data |
| --- | --- |
| Engine | Pratt & Whitney PT6A-34 |
| Length | 34 ft |
| Wingspan | 45 ft |
| Maximum Takeoff Weight | 7,255 lb |
| Seating Capacity | Up to 10 |
| Top Speed | 183 knots |
| Range | 1,132 nm |
| Service Ceiling | 25,000 ft |
Whether you're an aviation enthusiast or a professional in the industry, don't miss out on sharing the story of the Kodiak, the versatile powerhouse of the skies, with your peers. Spread the word and let's celebrate this amazing feat of aviation engineering!