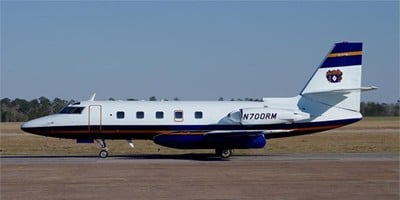 JetStar: The Star of the Skies – A Comprehensive Dive into the JetStar Aircraft
Prepare for an exciting journey as we soar into the mesmerizing world of the JetStar aircraft, a true icon of aviation. This aircraft's remarkable heritage, pioneering design, outstanding performance, innovative technology, and broad use make it a significant player in aviation history.
HISTORY
The JetStar aircraft, or Lockheed L-1329 JetStar, is a product of the globally renowned Lockheed Corporation. The JetStar first graced our skies back on September 4, 1957, during its maiden flight. It was introduced in 1961 and initially built for the United States Air Force's UCX program, where it was intended to serve as a personal VIP aircraft. However, the JetStar's unique combination of comfort, speed, and range made it a popular choice in the civilian market too, notably among business jet customers.
DESIGN
The JetStar is a multi-engine business jet notable for its unique design. With a wingspan of 54.17 feet, a length of 60.5 feet, and a weight of 44,500 pounds when fully loaded, it certainly makes a statement. The JetStar can comfortably accommodate up to 10 passengers, providing ample space and luxury.
PERFORMANCE
Performance-wise, the JetStar is an impressively capable aircraft. It reaches a top speed of 547 mph (or Mach 0.8), can cover a range of 2,500 miles, and has a service ceiling of 43,000 feet. The JetStar is not only known for its speed and altitude capabilities, but also for its exceptional fuel efficiency, making it a cost-effective choice for long-distance flights.
TECHNOLOGY
The JetStar boasts an array of cutting-edge technologies, such as advanced avionics, and efficient propulsion systems. The aircraft uses a quartet of Pratt & Whitney JT12 turbojets (or alternatively Garrett TFE731 turbofan engines in later models), which provide excellent performance and reliability. The aircraft's safety systems are top-notch, incorporating the latest advances in aviation safety technology at the time of its production.
VARIANTS
Several variants of the JetStar were produced over the aircraft's production span, each designed for specific uses. Notable variants include the JetStar II, which featured more fuel-efficient engines and a longer range, and the JetStar 731, which provided increased speed and range capabilities.
OPERATORS
The JetStar has found favor with a variety of operators worldwide, from private owners and businesses to military organizations. Notably, the United States Air Force employed JetStars as VIP/Executive transport under the designation C-140. The aircraft's superior comfort and performance make it an ideal choice for such high-profile roles.
To summarize, the JetStar aircraft, with its rich history, pioneering design, superior performance, and technological innovations, holds a distinguished place in aviation history. It is a perfect exemplar of the combination of comfort, speed, and efficiency.
If you've enjoyed this journey through the life and times of the JetStar, why not share this post with other aviation enthusiasts?
To conclude, here are the detailed specifications and performance data for the JetStar:
| Characteristic | Detail |
| --- | --- |
| Manufacturer | Lockheed Corporation |
| First Flight | September 4, 1957 |
| Introduction Date | 1961 |
| Wingspan | 54.17 feet |
| Length | 60.5 feet |
| Max Takeoff Weight | 44,500 pounds |
| Passenger Capacity | 10 |
| Top Speed | 547 mph (Mach 0.8) |
| Range | 2,500 miles |
| Service Ceiling | 43,000 feet |
| Engine Types | Pratt & Whitney JT12 turbojets / Garrett TFE731 turbofans |