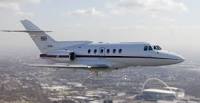 Journey of Majesty: The Hawker HS125 (700A) Aircraft
An epitome of luxury, sophistication, and breakthrough engineering, the Hawker HS125 (700A) aircraft has carved its own niche in the realm of aviation. This quintessential private business jet has been the choice of many discerning travelers, military organizations, and corporations.
HISTORY
The Hawker HS125 (700A), an indomitable figure in British aviation, is a creation of the Hawker Siddeley Group. The prototype, originally named the DH.125 Jet Dragon, first took flight on August 13, 1962. Designed as a mid-size corporate jet, the Hawker HS125 was envisioned to cater to the high-end business community, delivering speed, luxury, and operational flexibility. Over the decades, the HS125 (700A) model has undergone significant evolutions, with each iteration enhancing its appeal and performance.
DESIGN
The Hawker HS125 (700A) is a testament to British engineering prowess. With a wingspan of 14.33 meters and a length of 15.60 meters, the aircraft expertly combines compactness with aerodynamic efficiency. It weighs approximately 12,000 kilograms and accommodates up to 9 passengers, making it ideal for medium-size travel parties.
The aircraft features a low-wing design and a T-tail configuration, providing stability and improved performance. The interior is a marvel of luxury and comfort, offering spacious leather seats, a fully-equipped galley, and advanced in-flight entertainment systems.
PERFORMANCE
The Hawker HS125 (700A) doesn't just impress in design, it also excels in performance. The aircraft can reach a top speed of approximately 745 km/h, thanks to its powerful Rolls-Royce Viper turbojet engines. With a maximum range of 3,000 kilometers, it can undertake medium-haul flights with ease.
The aircraft can climb to an altitude of 41,000 feet, ensuring it operates above most weather disturbances. Its fuel efficiency is also notable, demonstrating the Hawker Siddeley Group's commitment to environment-friendly and economical operations.
TECHNOLOGY
The HS125 (700A) showcases several pioneering technologies. Its Honeywell SPZ-8000 avionics suite integrates advanced navigation and communication systems, providing pilots with unrivaled situational awareness. The aircraft's engines feature sound-dampening technologies, ensuring quieter operations.
In terms of safety, the HS125 (700A) boasts a fail-operational autopilot system and a state-of-the-art weather radar, offering unparalleled safety and reliability.
VARIANTS
The HS125 series encompasses multiple variants, with the 700A model being one of the most successful ones. Each variant offers distinct enhancements, such as increased range, improved avionics, or additional seating capacity, catering to different operational requirements.
OPERATORS
The Hawker HS125 (700A) has found favor with various entities worldwide. Notable operators include multinational corporations, private charter companies, and military organizations. The aircraft is often used for business travel, VIP transport, and special military missions such as reconnaissance and training.
CONCLUSION
The Hawker HS125 (700A) stands as a shining beacon in aviation history. With its blend of luxury, performance, and innovative technology, it offers a remarkable flight experience. Whether you're an aviation enthusiast, a corporate jet operator, or simply fascinated by exceptional engineering, the HS125 (700A) is an aircraft worth discovering. Share this post with others who might find it interesting!
---
Detailed Specifications:
| Feature | Description |
| --- | --- |
| Manufacturer | Hawker Siddeley Group |
| First Flight | August 13, 1962 |
| Wingspan | 14.33 meters |
| Length | 15.60 meters |
| Weight | 12,000 kilograms |
| Seating Capacity | Up to 9 |
| Top Speed | Approximately 745 km/h |
| Range | 3,000 kilometers |
| Altitude | 41,000 feet |
| Avionics | Honeywell SPZ-8000 suite |
| Propulsion | Rolls-Royce Viper turbojet engines |