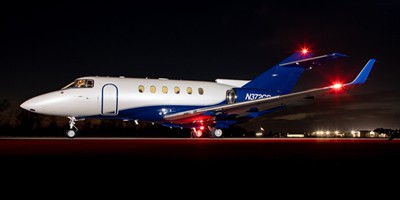 The Hawker 900: A Soaring Success in Mid-Size Aviation
The world of mid-size aircraft is diverse and dynamic, and at its forefront stands an exceptional model: the Hawker 900. This dynamic jet, built by British manufacturer Hawker Beechcraft, combines speed, versatility, and innovation, carving out a unique space in aviation history.
HISTORY
The Hawker 900 was introduced in 2007, standing on the shoulders of the Hawker 850XP, which was itself a product of decades of aircraft development. This mid-size jet was designed to be the pinnacle of its class, offering impressive range and comfort for corporate and VIP travelers alike. Over time, the 900 has found new users, further cementing its role in the global aviation landscape.
DESIGN
The Hawker 900 boasts a unique combination of size and capability. With a wingspan of 51.4 feet, a length of 51 feet, and a maximum takeoff weight of 28,000 lbs, it balances performance and practicality. Its cabin offers seating for up to 9 passengers in standard configuration, ensuring a comfortable flight experience even over longer distances.
PERFORMANCE
When it comes to performance, the 900 is truly a standout. It boasts a top speed of 514 mph, a range of 2,930 miles, and a maximum cruising altitude of 41,000 feet. But it's not just about raw numbers. The aircraft also impresses with its fuel efficiency, optimizing operating costs for its users.
TECHNOLOGY
What sets the 900 apart is its innovative technology. From the Honeywell TFE731-50R engines providing robust and reliable propulsion, to the Rockwell Collins Pro Line 21 avionics suite offering top-notch navigation and control, the aircraft is a testament to modern engineering. Moreover, safety systems like TCAS (Traffic Collision Avoidance System) and EGPWS (Enhanced Ground Proximity Warning System) ensure peace of mind for pilots and passengers.
VARIANTS
While the Hawker 900 is the flagship model, Hawker Beechcraft has developed several other variants over the years to suit specific needs. These include the Hawker 750, with a reduced range but increased luggage space, and the Hawker 4000, a larger, super-midsize variant with an extended range and capacity.
OPERATORS
The 900 is beloved by a wide range of operators, from corporate charter companies like NetJets and Flexjet, to various private and business owners. Its versatility and performance make it an ideal choice for a variety of missions, from business travel to medical evacuation.
CONCLUSION
With its rich history, superior design, and innovative technology, the Hawker 900 stands as an epitome of mid-size aviation. Whether you're an aviation enthusiast or a potential operator, this remarkable aircraft holds a distinct place in aviation history. Share this post with anyone who might appreciate the majestic story of the Hawker 900.
SPECIFICATIONS
| Features | Details |
| --- | --- |
| Manufacturer | Hawker Beechcraft |
| Introduction | 2007 |
| Maximum Speed | 514 mph |
| Range | 2,930 miles |
| Maximum Altitude | 41,000 feet |
| Seating Capacity | 9 passengers |
| Length | 51 feet |
| Wingspan | 51.4 feet |
| Weight | 28,000 lbs |
| Engines | Honeywell TFE731-50R |
| Avionics | Rockwell Collins Pro Line 21 |
| Safety Systems | TCAS, EGPWS |