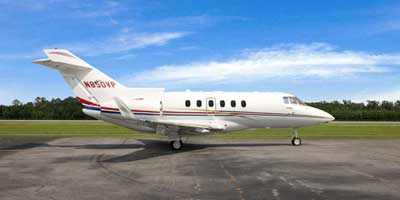 Soaring into Success: The Journey of the Hawker 850
The Hawker 850 is a pinnacle of design, innovation, and functionality in the world of mid-size business jets. Its inception by British manufacturer Hawker Beechcraft in 2006 marked a significant advancement in aviation technology and set a new standard for business travel. With its superb performance, state-of-the-art avionics, and efficient fuel usage, the Hawker 850 is as intriguing as it is influential in the sphere of aviation.
HISTORY
The Hawker 850's story started in 2006 when Hawker Beechcraft decided to upgrade its already popular Hawker 800XP. The design and production phases focused on improving the aircraft's range, fuel efficiency, and avionics systems. The result was an aircraft that combined cutting-edge technology with traditional Hawker virtues, such as durability and excellent short-field performance.
DESIGN
With a wingspan of 54.4 feet, a length of 51.2 feet, and a maximum takeoff weight of 28,000 pounds, the Hawker 850 is a perfect fit in the mid-size business jet category. The design of the aircraft focuses on a comfortable flight experience with a cabin that accommodates up to 8 passengers and 2 crew members. This spacious cabin, combined with a comprehensive noise reduction approach, ensures that passengers arrive at their destination refreshed and ready to work or play.
PERFORMANCE
The Hawker 850's top speed is a staggering 448 knots, and it has an impressive range of 2,642 nautical miles. It can reach an altitude of 41,000 feet, providing smooth and efficient flights above most weather disturbances. This performance, coupled with its fuel efficiency, allows the Hawker 850 to offer cost-effective long-distance travel.
TECHNOLOGY
The technological advancements in the Hawker 850 are notable, featuring a fully integrated Rockwell Collins Pro Line 21 avionics suite. The engines, Honeywell TFE731-5BR turbofans, offer a unique combination of power, reliability, and fuel efficiency. The safety systems in the Hawker 850 are state-of-the-art, featuring Enhanced Ground Proximity Warning Systems (EGPWS), Traffic Collision Avoidance Systems (TCAS II), and much more.
VARIANTS
The Hawker 850 is an upgraded version of the Hawker 800XP, featuring advanced winglets that increase range and overall performance. The 850XP variant remains the core model with no significant sub-variants introduced.
OPERATORS
The Hawker 850 is used by both private individuals and companies for business travel, as well as by charter companies. It has also seen service with governments and military organizations, notably the Japan Air Self-Defense Force, for VIP transportation.
In conclusion, the Hawker 850's blend of performance, design, and technology makes it a standout aircraft in the mid-size business jet market. Its influence in shaping the future of aviation is significant, ensuring its place in aviation history.
Interested in more fascinating aircraft stories? Feel free to share this post with others who love aviation!
SPECIFICATIONS
| Feature | Specification |
| --- | --- |
| Manufacturer | Hawker Beechcraft |
| Introduction Date | 2006 |
| Wingspan | 54.4 feet |
| Length | 51.2 feet |
| Maximum Takeoff Weight | 28,000 lbs |
| Seating Capacity | 8 passengers + 2 crew |
| Top Speed | 448 knots |
| Range | 2,642 nautical miles |
| Ceiling | 41,000 feet |
| Avionics | Rockwell Collins Pro Line 21 |
| Engines | Honeywell TFE731-5BR turbofans |