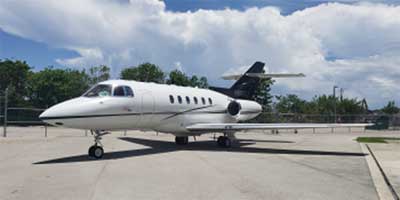 Soaring High: Unveiling the Wonders of the Hawker 800 Aircraft
Delve into the exhilarating world of aviation with us as we explore the Hawker 800, a strikingly innovative mid-size twinjet corporate aircraft. Let's embark on this journey to uncover the fascinating facts about this magnificent flying machine.
HISTORY
Produced by the renowned British manufacturer British Aerospace, the Hawker 800 was introduced in 1984. Its lineage can be traced back to the de Havilland DH.125, which began production in 1962. The Hawker 800, designed for corporate, charter, and private use, represents the culmination of a long-standing evolution of design and technology in aviation.
The 800's introduction marked a significant development in the corporate aviation industry. With advancements in range, comfort, and technology over its predecessors, it quickly became a popular choice for corporate and private jet operators worldwide.
DESIGN
This sleek aircraft sports a wingspan of 51.4 feet and a length of 51.2 feet. Its robust design allows it to carry a maximum takeoff weight of 28,000 lbs. It is specifically designed to provide superior comfort and efficiency. With a seating capacity for up to 13 passengers, the spacious cabin ensures a comfortable flight experience for all on board.
PERFORMANCE
The 800 is not just about looks; it packs power and performance. With a top speed of 514 mph, a range of 2,540 nautical miles, and an altitude capability of 41,000 feet, this aircraft stands out for its exceptional performance. Moreover, its fuel efficiency adds to its appeal for those seeking a balance between performance and cost.
TECHNOLOGY
In terms of technology, the 800 integrates cutting-edge avionics, propulsion, and safety systems. The aircraft features advanced Rockwell Collins Pro Line 21 avionics, ensuring reliable and efficient flight operations. Additionally, it houses Honeywell TFE731-5BR-1H turbofan engines that offer reliable and fuel-efficient propulsion.
In the safety realm, the Hawker 800 boasts sophisticated weather radar systems, collision-avoidance systems, and enhanced ground proximity warning systems, affirming the aircraft's commitment to safe and secure flying.
VARIANTS
The Hawker 800 has various notable variants, including the Hawker 800XP, 850XP, and 900XP. Each variant offers unique upgrades and enhancements. For instance, the 800XP variant is renowned for its increased range and improved engine performance. The 850XP and 900XP further enhance performance with advanced winglets and increased hot-and-high altitude performance, respectively.
OPERATORS
The 800 has been utilized by a range of operators, including private individuals, corporate entities, and even military organizations. Prominent airlines such as NetJets, a leader in private jet charters, have added the Hawker 800 to their fleets. Additionally, the Japan Air Self-Defense Force uses a military variant of the aircraft for various missions.
IN CONCLUSION
The Hawker 800 aircraft, with its remarkable history, groundbreaking design, impressive performance, state-of-the-art technology, and diverse range of operators, is undoubtedly a significant player in aviation history. Its continuous evolution and adaptability make it a timeless choice in the realm of mid-sized business jets. We invite you to share this post with other aviation enthusiasts and explore the marvel that is the Hawker 800.
| Specifications | Details |
| --- | --- |
| Length | 51.2 feet |
| Wingspan | 51.4 feet |
| Height | 18.1 feet |
| Max Takeoff Weight | 28,000 lbs |
| Max Speed | 514 mph |
| Range | 2,540 nautical miles |
| Max Altitude | 41,000 feet |
| Engine Type | TFE731-5BR-1H |
| Passengers | Up to 13 |