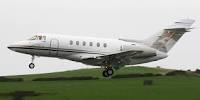 The Hawker 750: A Stalwart of Business Aviation
The Hawker 750, a remarkable name in the world of business aviation, was built with an ambitious vision – to lead the market with a perfect blend of comfort, performance, and cost-efficiency. This jet, from the renowned manufacturer Hawker Beechcraft, was introduced in 2008 as a premium choice for private and corporate transportation.
This model stands as a symbol of engineering excellence and cutting-edge technology, distinguishing itself through remarkable performance, innovative design, and usage by a broad spectrum of operators worldwide.
HISTORY
The Hawker 750 is a direct derivative of the British Aerospace BAe 125, which was later marketed as the Hawker 800. Following a series of improvements and modifications, the 750 was introduced in 2008, providing a remarkable milestone in Hawker Beechcraft's business jet portfolio.
DESIGN
The 750 maintains a distinctive design with an overall length of 51 feet and a wingspan of 54 feet. Its maximum takeoff weight is approximately 28,000 pounds. The aircraft is designed to comfortably seat eight passengers in a well-appointed, luxurious cabin layout, allowing ample space for relaxation and in-flight productivity.
PERFORMANCE
The Hawker 750 is equipped with a pair of Honeywell TFE731-5BR engines, which gives it a top speed of around 448 knots. With a maximum cruising altitude of 41,000 feet and a range of 2,400 nautical miles, this jet can take you from New York to Los Angeles without stopping. Its fuel efficiency, considering its size and performance, stands as a benchmark in the industry.
TECHNOLOGY
The Hawker 750 is outfitted with a Rockwell Collins Pro Line 21 avionics suite, delivering top-notch navigation and communication capabilities. Enhanced Ground Proximity Warning System (EGPWS), Traffic Collision Avoidance System (TCAS II), and a fully digital autopilot system contribute to the aircraft's advanced safety features.
VARIANTS
While the 750 serves as a base model, its sibling, the Hawker 800, offers increased range and an optional auxiliary fuel tank. The Hawker 900XP, another variant, offers an even greater range and is powered by Honeywell TFE731-50R engines for increased performance.
OPERATORS
This mid-sized business jet has found favor with various operators around the globe, including corporate fleets, charter operators, and private owners who appreciate its comfort, range, and operational efficiency.
CONCLUSION
The Hawker 750 has made a significant mark in the field of aviation, particularly business aviation. Its impressive performance, remarkable design, and innovative technology make it an invaluable asset for various operators around the world. Whether you're an aviation enthusiast or interested in business jets, the Hawker 750 is sure to catch your attention. So why not share this post and help others discover this incredible aircraft?
SPECIFICATIONS
| Feature | Specification |
| --- | --- |
| Manufacturer | Hawker Beechcraft |
| Introduced | 2008 |
| Length | 51 feet |
| Wingspan | 54 feet |
| MTOW | 28,000 lbs |
| Seating Capacity | 8 passengers |
| Top Speed | 448 knots |
| Range | 2,400 nm |
| Cruising Altitude | 41,000 feet |
| Engines | 2x Honeywell TFE731-5BR |