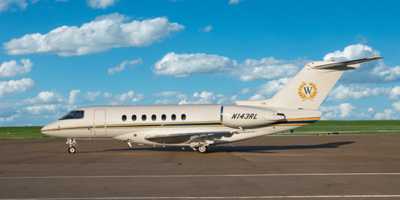 Soaring High: The Hawker 4000 Story
Buckle up as we take a thrilling flight through the history, design, performance, and unique features of the phenomenal Hawker 4000 aircraft. Crafted by the renowned British manufacturer Hawker Beechcraft, this majestic machine made its maiden flight in 2001 and quickly ascended to become a stalwart of the business aviation world.
HISTORY
The Hawker 4000, also known as the Hawker Horizon, was initially announced in 1996. Amidst an era of technological advancement and soaring ambition, Hawker Beechcraft sought to raise the bar in the world of business jets. The aircraft's first prototype took to the skies in August 2001, marking a remarkable milestone in the world of aviation. After a few years of rigorous testing and certifications, the first Hawker 4000 was delivered to a customer in 2008.
DESIGN
With its sleek structure and impressive size, the 4000 stands out from the crowd. The aircraft spans 61.6 feet in length and boasts a wingspan of 63.6 feet. Its maximum takeoff weight sits at an imposing 39,975 pounds. Inside, the cabin can comfortably accommodate up to ten passengers, offering a spacious and luxurious flying experience.
PERFORMANCE
Unleashing a top speed of 540 miles per hour, the Hawker 4000 propels its passengers through the sky with breathtaking speed. With a range of 3,280 nautical miles, this jet has the capability to connect city pairs like New York to Honolulu non-stop. It can cruise at an altitude of 45,000 feet, soaring above commercial traffic and adverse weather. Despite its power, the aircraft is fuel-efficient, adhering to modern standards of environmental responsibility.
TECHNOLOGY
What truly sets the Hawker 4000 apart is its impressive array of advanced technologies. The aircraft boasts an integrated Honeywell Primus Epic avionics suite, complete with advanced communications and navigation systems. The jet is also equipped with powerful Pratt & Whitney Canada PW308A engines. The aircraft's safety measures are equally commendable, featuring a sophisticated Emergency Vision Assurance System (EVAS) and advanced weather radar.
VARIANTS
The 4000 came in a singular, spectacular variant, embodying the perfect blend of comfort, performance, and reliability.
OPERATORS
The Hawker 4000 has graced the fleets of several private operators and charter services worldwide, with its primary use being for business travel. Some military organizations have also utilized this aircraft for VIP transport.
To wrap up, the 4000 is a notable figure in the aviation industry. Its innovative design, robust performance, and cutting-edge technology make it a trailblazer in its field. So next time you see this majestic bird in the sky, you'll understand the remarkable history and innovation it embodies.
Hawker 4000 Specifications
| Aspect | Specification |
| --- | --- |
| Manufacturer | Hawker Beechcraft |
| Length | 61.6 feet |
| Wingspan | 63.6 feet |
| MTOW | 39,975 pounds |
| Seating Capacity | Up to 10 passengers |
| Top Speed | 540 mph |
| Range | 3,280 NM |
| Service Ceiling | 45,000 feet |
| Avionics | Honeywell Primus Epic |
| Engines | Pratt & Whitney Canada PW308A |
We hope you've enjoyed this flight through the world of the Hawker 4000. Please share this post with others who might be interested, and let's continue celebrating the extraordinary achievements of aviation!