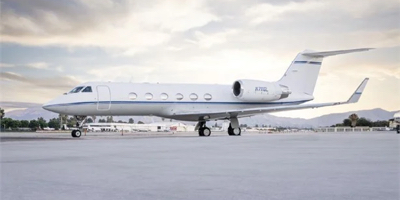 Gliding the Sky with Grandeur: The Tale of Gulfstream IV
Step into the world of aviation with the iconic Gulfstream IV, an aircraft known for its charm and powerful performance. Its ability to seamlessly blend luxury, speed, and innovation sets a high standard in the world of private jets.
HISTORY
The Gulfstream IV, a product of Gulfstream Aerospace, had its first flight on September 19, 1985, as an upgrade to its predecessor, the Gulfstream III. The main objective of its creation was to enhance the already remarkable features of its forebear. From its initial conception, the G-IV has been intended for corporate and private use, including by VIPs and heads of states.
This aircraft model's journey has seen many achievements. Its 1987 maiden flight from Washington D.C. to Paris was a noteworthy milestone, setting 22 city-pair records. A symbol of luxury and speed, the G-IV has undoubtedly made its mark in aviation history.
DESIGN
In terms of design, the GIV is an epitome of sleekness and modernity. With a wingspan of 77.10 ft and a length of 88.4 ft, it exudes a certain grandeur that can't be overlooked.
The aircraft can comfortably accommodate up to 19 passengers, with a maximum capacity of 26. Its hefty maximum takeoff weight of 74,600 pounds is indicative of its robust build and power.
PERFORMANCE
The Gulfstream IV is a class apart when it comes to performance. Its top speed of Mach 0.88, a cruise range of 4,220 nautical miles, and maximum altitude of 45,000 feet truly set it apart. Its fuel efficiency is commendable, with an average consumption rate of 444 gallons per hour.
TECHNOLOGY
Not just a pretty face, the Gulfstream IV is packed with impressive technology. It is equipped with advanced avionics such as the SPZ-8000 Flight Management System. Its Honeywell TFE731-5BR-2C engines deliver a whopping 18,500 lbs of thrust.
Moreover, the aircraft's safety systems are top-tier, including TCAS (Traffic Collision Avoidance System) and GPWS (Ground Proximity Warning System), ensuring peace of mind during every flight.
VARIANTS
The GIV has two primary variants, namely the GIV-SP (Special Performance) and the G450. The GIV-SP boasts higher maximum takeoff weight and range than the original GIV. The G450, on the other hand, features upgraded engines and avionics, providing even greater performance and luxury.
OPERATORS
The GIV has found favor among numerous prestigious organizations. Top corporations, wealthy individuals, and even the U.S. military operate this aircraft for a variety of roles such as long-range business travel and airborne early warning missions.
To summarize, the Gulfstream IV's charm lies in its harmonious blend of luxurious amenities, speed, and cutting-edge technology. This aircraft has carved out a niche for itself in aviation history and continues to be a popular choice among discerning travelers.
Share the incredible story of the Gulfstream IV with fellow aviation enthusiasts and make sure to keep soaring high!
Below is a detailed specification chart of the Gulfstream IV:
| Specification | Details |
| --- | --- |
| Manufacturer | Gulfstream Aerospace |
| First Flight | September 19, 1985 |
| Length | 88.4 ft |
| Wingspan | 77.10 ft |
| Max Takeoff Weight | 74,600 lbs |
| Seating Capacity | 19 (comfort), 26 (maximum) |
| Engines | 2x Honeywell TFE731-5BR-2C |
| Maximum Speed | Mach 0.88 |
| Cruise Range | 4,220 nautical miles |
| Maximum Altitude | 45,000 ft |
| Fuel Consumption | 444 gallons per hour |