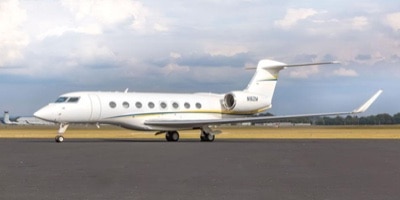 Soaring Above the Rest: The Incredible Journey of the Gulfstream G650
Welcome aboard the Gulfstream G650, an extraordinary feat of aviation engineering. Manufactured by General Dynamics' Gulfstream Aerospace unit, this luxury business jet made its grand entry into the skies in 2012. Designed to cater to high-end clientele's sophisticated tastes and travel needs, the G650 is indeed a statement of elegance, performance, and advanced technology.
HISTORY
Unveiled in 2008, the Gulfstream G650 has undergone a remarkable journey from concept to creation. This ambitious project aimed to deliver an aircraft with unmatched speed, range, and luxury in the business aviation industry. After four years of meticulous design and development, the G650 completed its first successful flight in 2009 and finally received its FAA certification in 2012, setting a new standard in business aviation.
DESIGN
Measuring an impressive 99 feet 9 inches in length, the Gulfstream G650 has a wingspan of 99 feet 7 inches and stands 25 feet 4 inches high. It can carry up to 19 passengers and 4 crew members, ensuring a seamless flight experience. The state-of-the-art design of this aircraft prioritizes both luxury and comfort, offering ample cabin space and advanced in-flight amenities.
PERFORMANCE
When it comes to performance, the Gulfstream G650 truly stands out. It can reach a top speed of Mach 0.925, a cruising altitude of 51,000 feet, and has a remarkable range of 7,000 nautical miles, enabling non-stop long-haul flights. Its fuel efficiency is remarkable due to its advanced engine technology and aerodynamic design, making it a highly economical choice for long-distance travel.
TECHNOLOGY
The Gulfstream G650 is a technological marvel equipped with advanced avionics, propulsion, and safety systems. It is powered by two Rolls-Royce BR725 engines, and its flight deck is equipped with Gulfstream's PlaneView II avionics suite, including Enhanced Vision System (EVS) and Head-Up Display (HUD). This aircraft is also well-regarded for its stringent safety measures, including a state-of-the-art fire suppression system and advanced navigation capabilities.
VARIANTS
There are two variants of the Gulfstream G650 – the G650 and the extended-range G650ER. The G650ER offers an increased range of up to 7,500 nautical miles, making it ideal for ultra-long-haul missions. While both variants share similar design and features, the extended range of the G650ER allows it to connect more cities worldwide.
OPERATORS
The Gulfstream G650 is primarily operated by corporate entities, high-net-worth individuals, and private charter companies. Due to its outstanding range and speed, it has become a favorite amongst transcontinental businesses and discerning travelers seeking ultimate comfort and efficiency.
In conclusion, the Gulfstream G650's exceptional design, performance, and technological advancements make it a significant milestone in aviation history. Share this fascinating journey of the G650 with aviation enthusiasts, and let's celebrate the relentless human pursuit of innovation and luxury.
Here's a brief rundown of the Gulfstream G650's specifications:
|   | G650 |
| --- | --- |
| Manufacturer | Gulfstream Aerospace |
| Crew | 2 pilots, 1-2 attendants |
| Passengers | Up to 19 |
| Length | 99 ft 9 in |
| Wingspan | 99 ft 7 in |
| Height | 25 ft 4 in |
| Maximum Speed | Mach 0.925 |
| Cruising Altitude | 51,000 ft |
| Engines | 2x Rolls-Royce BR725 |
| Avionics | PlaneView II suite |
Safe journeys and clear skies to all!