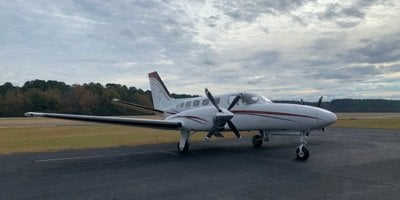 Cessna Conquest II: Legacy of an Aviation Pioneer
The Cessna Conquest II, a small yet powerful turboprop, is a remarkable piece of aviation history. Produced by the world-renowned Cessna Aircraft Company, this aircraft made its grand entrance in the aviation market in 1977. Originally intended for private use and small charter airlines, it quickly became a favorite for its unique blend of comfort, efficiency, and speed.
HISTORY
The Cessna Conquest II, also known as the Cessna 441, is the successor to the original Cessna 404 Titan. Its design was a response to the market's demand for a more potent turboprop. When it made its maiden flight in 1975 and was certified and introduced in 1977, it was Cessna's first aircraft to be entirely pressurized, setting a new standard for comfort in private aviation.
DESIGN
The Conquest II's design was a significant step up from its predecessor. It measures about 39 feet in length with a wingspan of 49 feet. The aircraft features a conventional tail design, a pressurized cabin, and has a maximum takeoff weight of around 10,165 pounds. It comfortably seats up to nine passengers in a typically configured cabin, although it can accommodate more depending on the configuration.
PERFORMANCE
This aircraft is as efficient as it is powerful. It has a maximum cruise speed of around 335 knots and a range of approximately 2,242 nautical miles. Its service ceiling is an impressive 35,000 feet. One of the most notable aspects of the Conquest II's performance is its fuel efficiency, which is significantly higher than most aircraft in its class.
TECHNOLOGY
The Cessna Conquest II is outfitted with state-of-the-art technology for its time. The aircraft's avionics suite typically includes modern navigation, autopilot, and communication systems. It is powered by two Garrett TPE331 turboprop engines, known for their reliability and performance. Safety features include advanced deicing systems and fully pressurized cabins.
VARIANTS
The Conquest II has a few variants, each adapted for specific uses. The original 441 variant is the most common. However, the 441B Conquest II incorporated an increased maximum takeoff weight and upgraded avionics. There's also the 441B-II, a special high-density seating variant developed for commuter airlines.
OPERATORS
Over the years, the Conquest II has been used by numerous private operators and small charter airlines worldwide. Its reliability, efficiency, and performance have made it a popular choice for private travel, medical evacuation, and air taxi operations.
In conclusion, the Cessna Conquest II is a remarkable aircraft that has left a significant impact on the aviation industry. Its unique blend of comfort, efficiency, and performance continues to make it a favorite among private operators and small charter airlines even today. If you're an aviation enthusiast or just love a good tale of innovation and success, feel free to share this post!
---
Aircraft Specifications: Cessna Conquest II (Cessna 441)
| Characteristic | Specification |
| --- | --- |
| Manufacturer | Cessna Aircraft Company |
| First Flight | 1975 |
| Introduction | 1977 |
| Length | 39 ft |
| Wingspan | 49 ft |
| Max Takeoff Weight | 10,165 lbs |
| Seating Capacity | Up to 9 (depending on configuration) |
| Cruise Speed | 335 knots |
| Range | 2,242 nautical miles |
| Service Ceiling | 35,000 ft |
| Engines | 2 x Garrett TPE331 turboprop |
| Variants | 441, 441B Conquest II, 441B-II |