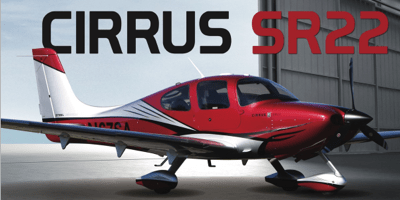 Discover the Superior Performance and Luxury of the Cirrus SR22
Experience unrivaled excellence with the Cirrus SR22 – a top-of-the-line aircraft combining exceptional performance, cutting-edge technology, and lavish comfort. Learn more about this remarkable aircraft and elevate your aviation experience today!
INTRODUCTION OF THE SR22
The Cirrus SR22 is a single-engine four- or five-seat composite aircraft built from 2001 by Cirrus Aircraft of Duluth, Minnesota. It is a development of the Cirrus SR20, with a larger wing, higher fuel capacity, and a more powerful, 310-horsepower engine.
The Cirrus SR22 is a premium single-engine piston aircraft renowned for its unmatched performance, advanced avionics, and luxurious features. This exceptional aircraft seamlessly blends power, safety, and elegance, setting new standards in the world of private aviation. Explore the impressive capabilities and amenities of the Cirrus SR22 as we delve into its remarkable features and why it's the preferred choice for discerning pilots and enthusiasts.
UNRIVALED PERFORMANCE
The Cirrus SR22 is a high-performance aircraft built to deliver an unparalleled flying experience. Powered by a robust and efficient piston engine, it offers impressive speed, climb rates, and exceptional range, enabling you to reach your destination quickly and efficiently. Whether you're soaring through the skies for business or pleasure, the SR22 ensures a smooth, swift, and exhilarating journey every time.
CUTTING-EDGE AVIONICS
Equipped with state-of-the-art avionics, the Cirrus SR22 boasts a comprehensive suite of advanced technologies. The Cirrus Perspective+ by Garmin avionics system seamlessly integrates with the aircraft's controls, providing pilots with precise navigation, situational awareness, and enhanced safety features. With its intuitive interface and advanced capabilities, the SR22 empowers pilots to make informed decisions and navigate the skies with utmost confidence.
UNCOMPROMISING SAFETY
Safety is a paramount consideration in the design of the Cirrus SR22. It features the Cirrus Airframe Parachute System (CAPS), a groundbreaking safety innovation that provides an added layer of protection. In the event of an emergency, CAPS allows for the controlled deployment of a parachute, enabling the aircraft and its occupants to descend safely to the ground. This cutting-edge safety feature has proven to be a life-saving asset, making the Cirrus SR22 one of the safest aircraft in its class.
LUXURIOUS COMFORT
Step into a world of luxury and comfort with the Cirrus SR22. Its meticulously crafted interior combines premium materials and exquisite craftsmanship, ensuring an opulent flying experience. From plush leather seating to generous legroom, every detail is designed to provide utmost relaxation and refinement during your journeys. The SR22's spacious cabin also offers ample storage for luggage and personal belongings, allowing you to travel in style without compromising on convenience.
CONCLUSION
The Cirrus SR22 is a true masterpiece in the realm of private aviation, delivering uncompromising performance, cutting-edge avionics, unrivaled safety features, and luxurious comfort. Whether you're a seasoned pilot or an aviation enthusiast, the SR22 offers an unparalleled flying experience that is second to none. Experience the pinnacle of excellence in aviation and embark on your next adventure with the Cirrus SR22. Contact us today to elevate your journey to new heights!
Performance and Specifications
|   | SR22 |   |
| --- | --- | --- |
| Engine | Lycoming IO-550-N 310 hp |   |
| Normal Cruise speed | 180 knots |   |
| Useful Load |  950 lbs |   |
| Takeoff | 1,574 feet |   |
| Dimensions (Wingspan x Length) | 38.4 ft x 26 ft |   |