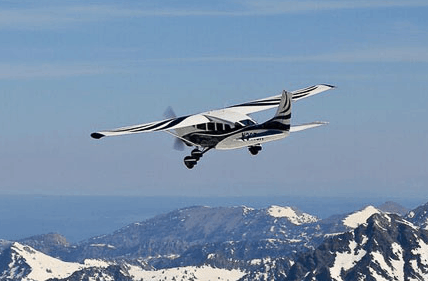 Cessna T207 Turbo Skywagon T207A
The Cessna T207 is a single-engine aircraft configured as a cantilever high-wing aircraft with a conventional tail and steerable nose wheel. It features tricycle, fixed gear and a constant-speed propeller. It seats up to 7 passengers and a pilot.
The seven to eight seat Model 207 was built from 1969 through 1984, serial numbers 1 through 788. A total of 626 Cessna 207s were manufactured.
Specifications
Exterior Dimensions
Wing span: 35 ft 10 in
Length: 32 ft 2 in (prior 1979 31 ft 9 in)
Height: 9 ft 7 in
Weights
Gross Weight: 3,800 lbs
Empty Weight: 2,254 lbs
Maximum Payload: 1,008  lbs
Fuel capacity: 61 gal (58 gallons useable) and 84 gal (77 useable)
Engine
Manufacturer: Cont Motor
Model: TSIO-520-M
Horsepower: 310 hp
Overhaul (HT): 1400 hrs TBO
Years before overhaul: 12
Performance Specifications
Horsepower: 310.00
Gross Weight: 3,800
Top Speed: 170
Empty Weight: 2,254
Cruise Speed: 161
Fuel Capacity: 61
Stall Speed (dirty): 59
Range: 583
 
Rate of Climb: 885
Rate of Climb (One Engine):
Service Ceiling: 26,000
Ceiling (One Engine):
 
Takeoff
Landing
Ground Roll: 1,030
Ground Roll 765
Takeoff Roll Over 50 ft: 1,860
Landing Roll Over 50 ft: 1,500
History
The Model 207 was a seven- and later eight-seat aircraft, achieved by stretching the fuselage of the Model 206 by 45 inches to allow space for more seats and 4 side passenger windows. The nose section was extended 18 inches by adding a nose baggage compartment between the passenger compartment and the engine firewall; the aft section was extended by 27 inches by inserting a section in the fuselage area just aft of the aft wing attach point.
Thus the propeller's ground clearance was unaffected by the change (the nosewheel had moved forward the same distance as the propeller), but the tail moved aft relative to the mainwheel position, which made landing (without striking the tailskid on the runway) a greater challenge. The move gave that airplane a larger turning radius, since the distance between mainwheels and nosewheel increased by 18 inches but the nosewheel's maximum allowed deflection was not increased.
The 207 was introduced as a 1969 model featuring a Continental IO-520-F engine of 300 hp. A turbocharged version was equipped with a TSIO-520-G of the same output.
Further development
At the beginning of production in 1969 the model 207 was called a Cessna 207 "Skywagon", but in 1979 the name was changed to "Stationair 7". 1979 also saw a change of engine on the turbocharged version to a Continental TSIO-520-M producing 310 hp – the same engine used in the TU206 of the same vintage.
The 207 added a seat in 1981 and was then known as the "Stationair 8". Production of the 207 was completed in 1984, just two years before U206 production halted. A total of 626 Cessna 207s were manufactured.
The Cessna Model 207 has been popular with air taxi companies, particularly on short runs where its full seating capacity could be used. Very few of these aircraft have seen private use.
Model 207 handles much like a Skyhawk or Skylane, and in some ways easier to fly. The larger aircraft is more immune to turbulence. The flap configuration makes slow speed handling better than on the smaller models. This sport-utility model lands in less than 1000 ft and is at home both on paved and rural strips.
Performance is not too bad at 16-17 gal/hr and the Turbo model will yield true airspeeds of 130 kts at lower altitude and up to 150 kts up high.
Variants
Cessna T207 Turbo Skywagon
Seven seats, powered by a turbocharged Continental TSIO-520-G of 300 hp (224 kW), with a gross weight of 3,800 lb (1,724 kg) landplane and certified on 31 December 1968.
Cessna T207A Turbo Skywagon / Turbo Stationair 8
Seven seats, powered by a turbocharged Continental TSIO-520-M of 310 hp (231 kW), with a gross weight of 3,800 lb (1,724 kg) landplane and certified on 12 July 1976. Certified for eight seats on 11 September 1979.