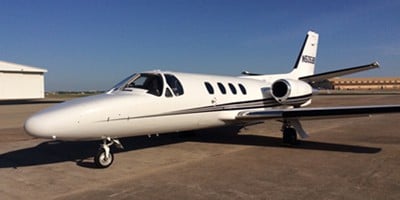 Cessna Citation ISP
The Cessna Citation ISP is a twin-engine light corporate jet produced by Cessna from 1977 until 1985. Model 501 ISP seats up to 6 passengers and 1 pilot.
Specifications
Exterior Dimensions
Wing span: 47 ft 1 in
Length: 43 ft 6 in
Height: 14 ft 4 in
Internal Dimensions
Length: 11.3 ft.
Width: 4.7 ft.
Height: 4.3 ft.
Cabin Volume: 205 cu ft
Internal Baggage: 57 cu ft
Avionics
Collins Proline, RVSM, TAWS B, ADS-B
Engine
Manufacturer: Pratt & Whitney
Model: JT15D-1A1B (2 turbofan engines)
Horsepower: 2200 lbs
Overhaul (HT): 3000/3500 TBO
Performance
Horsepower: 2200.00
Gross Weight: 11,850
Top Speed:
Empty Weight: 6,631
Cruise Speed: 357
Fuel Capacity: 3;807
Stall Speed (dirty): 82
Range: 1,325
 
Rate of Climb: 2,719
Rate of Climb (One Engine): 826
Service Ceiling: 41,000
Ceiling (One Engine): 21,000
 
Takeoff
Landing
Ground Roll:
Ground Roll
Takeoff Roll Over 50 ft: 2,930
Landing Roll Over 50 ft: 2,270
History
The Cessna 500 series Citation I created the entry level light business jet market. Their success set the base for the world's largest family of corporate jets. Due to the early success of the Citation I, Cessna became the first of the big three American manufacturers which include Piper, Beech and Cessna.
In October of 1968, Cessna announced the beginning of the new model of jet powered business aircraft that would be capable of operating into airfields already served by light and medium twin turboprops. Named the Fanjet 500, the prototype flew for the first time on September 15th, 1969, and later named the Citation.
FAA certification was received on September 9th, 1971. A new and improved model of the Citation I was the 501 Citation ISP, which is certified for single pilot operation. The I/SP started delivering in early 1977 and continued to 1985.
Design
Two Pratt & Whitney of Canada JT15D-1AB turbofan engines were chosen for the Citation I. With each rated at 2,200 lbs. of thrust, they provide a considerable amount of power to fly the small jet.
The Citation I requires a crew of two, much like the Learjets. However, the Citation ISP's single-pilot configuration allows room for an extra passenger in the right seat of the flight deck. The "tight" cabin, measuring 12.7 ft. in length, 4.9 ft. in width and 4.3 ft. in height, can seat six passengers. In addition, it contains a full-width lavatory and a small galley/refreshment counter.
In short, Cessna's original Citation offered performance at a reasonable cost, when there was a definite need for a sensible, entry-level business jet. Between 1971 and 1985, over 690 of the highly-popular Citation 1's and Citation 1 S/P's were built.
Further Development
Today you can find used Citation Is for as little as $300,000. Aircraft in this price range are generally early 500 models and have a service ceiling of 35,000 feet. You can buy a 1980 model in good condition for less than $500,000. That's less than the price of a new single-engine piston airplane such as a Hawker Beechcraft Bonanza.
A Citation I jet is a small jet ideal for short trips with a range of 970 nautical miles and less than 4 passengers. It has a lower per/mile direct operating cost than the faster Falcon 10 and Learjet 35A.
The Citation I can be tweaked to the point that it outperforms many new aircraft costing millions of dollars more. Citations have no airframe life limit and properly maintained will virtually fly forever.