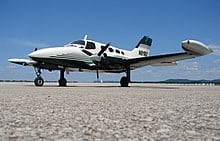 Cessna 401
The Cessna 401 is a 6 to 10 seat, low-wing, twin piston, turbocharged engine aircraft produced by Cessna from 1967 until 1972. Distinguishing features are: retractable landing gear and three-bladed, constant speed, fully feathering propellers. Model 401 seats up to 9 passengers and 1 pilot.
Specifications
Exterior Dimensions
Wing span: 39 ft 9 in
Length: 33 ft 8 in
Height: 11 ft 7 in
Engine
Manufacturer: Continental
Model: TSIO-520-E
Horsepower: 300 hp
Overhaul (HT): 1400 TBO or 12 years
Performance
Horsepower: 300.00
Gross Weight: 6,300
Top Speed: 227
Empty Weight: 3,674
Cruise Speed: 209
Fuel Capacity: 102
Stall Speed (dirty): 69
Range: 1,102
 
Rate of Climb: 1,610
Rate of Climb (One Engine): 255
Service Ceiling: 26,180
Ceiling (One Engine): 11,700
 
Takeoff
Landing
Ground Roll: 1,695
Ground Roll 777
Takeoff Roll Over 50 ft: 2,220
Landing Roll Over 50 ft: 1,765
History
The Cessna 401 and 402 line was manufactured by Cessna from 1966 to 1985 under the name Utiliner and Businessliner. All seats are easily removable so that the aircraft can be used in an all-cargo configuration. Neither the Cessna 401 nor the 402 were pressurized, nor were they particularly fast for the installed horsepower. Instead, Cessna intended them to be inexpensive to purchase and operate.
Design
Models 401 and 402 were developed to be non-pressurized twin engine piston aircraft. Their goal was to be a workhorse, useful to cargo and small commuter airlines among other users.
The 401 and 402 were developments of the Cessna 411. One goal for the Cessna 401/402 was to improve upon the very bad single engine handling of the Cessna 411. Another goal was to avoid using the somewhat expensive and maintenance prone geared engines of the Cessna 411.
They are powered by 300 hp turbocharged Continental engines with three-bladed, constant speed, fully feathering propellers. On later models cruise power was limited to 75% to reduce cabin noise. Some aircraft have a propeller synchrophaser to reduce cabin noise and vibration.
The FAA granted certification to the Cessna 401 in October 1968 and the 402 in January 1969.The original Cessna 402 was introduced in 1967. A version without the large cargo door called the Cessna 401 was produced at the same time. In 1969, the 402's nose was stretched for added baggage space. This model was renamed the 402A. The 401 kept the original nose. In 1970, various minor changes were made. Also, optional larger (184 gallon) fuel tanks became available. This model was called the 402B. By 1971, sales of the 401 had slowed to only 21 planes, so the model was discontinued.
Variants
Cessna 401 (1967-68)
Six to eight seat interior, intended for corporate transport. Produced 1966–1972. The replacement for the 401 in the corporate transport role was the 402 Businessliner variant. Certified 20 September 1966.
Cessna 401A (1969)
A 401 with minor changes. Certified 29 October 1968.
Cessna 401B (1970-72)
A 401A with minor changes, later replaced by the 402B. Certified 12 November 1969.