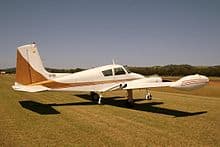 Cessna 310C
The Cessna 310C is a four seat, low-wing, twin piston engine aircraft with a conventional tail produced by Cessna in 1959 with 260 produced. Distinguishing features are: retractable landing gear, constant-speed propellers. The 310B seats up to 3 passengers and 1 pilot.
Specifications
Exterior Dimensions
Wing span: 36 ft 11 in
Length: 29 ft 6 in
Height: 9 ft 11 in
Engine
Manufacturer: Continental
Model: IO-470-D
Horsepower: 260 hp
Overhaul (HT): 1500 TBO or 12 years
Performance
Horsepower: 260.00
Gross Weight: 4,830
Top Speed: 191
Empty Weight: 2,850
Cruise Speed: 178
Fuel Capacity: 102
Stall Speed (dirty): 71
Range: 640
 
Rate of Climb: 1,700
Rate of Climb (One Engine): 415
Service Ceiling: 19,500
Ceiling (One Engine): 7,700
 
Takeoff
Landing
Ground Roll: 1,120
Ground Roll 1,285
Takeoff Roll Over 50 ft: 1,375
Landing Roll Over 50 ft: 1,710
History
The 310 first flew on January 3, 1953, with deliveries starting in late 1954. Competition was Piper's PA-23 Apache, Beech's Twin Bonanza and the Aero Commander 520.
The sleek modern lines of the new twin included tight cowlings and streamlined nose and tip tanks. Innovative features of the day included engine exhaust thrust augmenter tubes and split wing flaps which eliminated the need for external brackets or tracks. Distinguishing features were the multiple aft side windows and storage of all fuel in tip tanks or 'tuna tanks' named for their odd shape. The tanks hold 50 gallons of fuel each and became the Cessna twin hallmark.
In 1958, the Cessna 310B came out with a new instrument panel, a O-470-M engine and a 100 lb boost in gross weight.
The 1959 Cessna 310C was equipped with the Continental IO-470-D 260 hp fuel-injected engine and an increased Maximum take-off weight of 4,830 lbs and some other minor changes.