Do you know that there are more Cessna 172 for sale on the market than any other type because more of this aircraft have been built than any other aircraft in the world? In fact ever since the four-seat, single engine, fixed-wing aircraft was first built in 1956 it has continuously been produced right to this day. In the fifties the aircraft had a maximum gross weight of 2200 lbs (998 kg) and the introductory base price was only $8,995!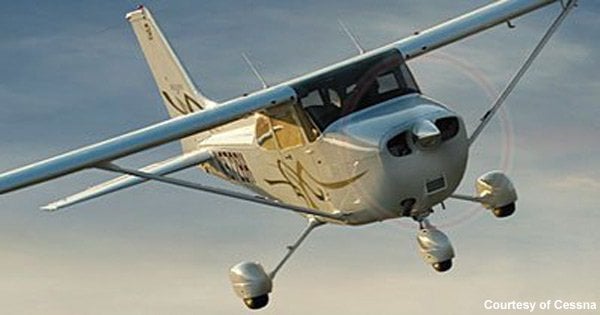 The Cessna 172 Skyhawk is considered to be the best training aircraft available. It is no wonder that most aircraft training schools use this plane. The flight controls are near-perfect and it is highly stable giving good reason as to why trainers love it. Most flight training schools buy used aircraft and even then, a used 172 Skyhawk still performs as the workhorse that it is. Some countries like Iraq, Lithuania, and Singapore use the Cessna 172 Skyhawk in their national air force because it is an aircraft that can almost fly itself because it is so highly intuitive. Charter services are often looking for Cessna 172 for sale to purchase due to their high customer satisfaction and the overall demand for this aircraft.
Among all of the airplanes for sale, the Cessna 172 remains a buyer's favorite. Most aircraft dealers know that a Cessna 172 is a popular, sought after aircraft for personal use. It is considered a model aircraft for private users and is one of the most-flown aircraft ever. The competition it received from the Beechcraft Musketeer and the Piper Cherokee was short-lived as they stopped being produced a long time back, while the 172 continues to be manufactured and remains a sought-after aircraft among airplanes for sale.
The Cessna 172 is one of the most successful aircraft ever manufactured in the world. It is affordable, safe, and easy to fly. Owners who have bought the aircraft have expressed overall satisfaction in their personal planes. Any 172 for sale finds a quick market as most people love to fly the aircraft more than any other in the sky. More than 43,000 Cessna 172's have been produced and they still continue to sell as they are often considered the undisputed champions of the sky.
Over the years changes and improvements have continued to be made to the Cessna 172. The all-metal aircraft has been corrosion proofed, the glass has been improved and the paint is more durable now. One of the best improvements is that the complete interior has been redesigned which has added value to the aircraft. Aircraft dealers understand that this is an aircraft that has a high resale value because it holds its value so well. In fact there are many training schools that are willing to pay a premium to operate the Cessna 172 Skyhawk instead of smaller airplanes. Aircraft dealers sell the very best used Cessna aircraft and can often even deliver them if that is what customers would like. Despite the fact that the Cessna 172 has a higher price than other similar aircraft they are sold and resold frequently and remain a market leader.
ADN lists every new and used aircraft for sale on the market in one searchable location.

Our databases are updated daily as we track all Cessna 172 Skyhawk aircraft on the market.