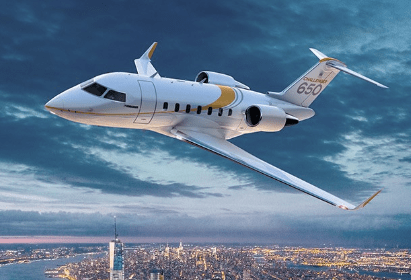 Bombardier Challenger 650
The Bombardier Challenger 650 is a twin-engine, fanjet aircraft with a retractable gear. It was produced by Bombardier beginning in 2015 and is still made today, Serial Numbers 6050 through 6140+. Seating capacity up to 10 passengers and 2 pilots. Business seating configurations seat up to 9 passengers comfortably.
Specifications
Exterior Dimensions
Wing span: 64 ft 4 in
Wing Area: 489 sq ft
Length: 68 ft 6 in
Height: 20 ft 8 in
Interior Dimensions
Cabin Height: 6 ft
Cabin Width: 7 ft 11 in
Cabin Length: 25 ft 7 in
Cabin Volume: 1,150 cu ft
Weights
Max TO weight 48,200 LBS
Empty Weight:  27,150 LBS
Maximum Payload: 4,850 LBS
Fuel capacity: 20,000 LBS
Engine (x2)
Manufacturer: General Electric
Model: CF34-3B MTO
Horsepower: 9,220 LBS
Overhaul (HT): Engine Program
Avionics
Bombardier Vision flight deck
Dual Flight Management System with LPV and RNP approach capabilities
Synthetic Vision System (SVS)
MultiScan weather radar
Dual Inertial Reference System (IRS)
Dual SBAS/WAAS GPS
Performance specifications on Bombardier Challenger 650
Thrust: 9220.00 x 2
Gross Weight: 48,200 lbs
Max Speed: 566 kts
Empty Weight: 27,150 lbs
Max Cruise Speed: 546 kts Typical Cruise: 533 kts
Fuel Capacity: 20,000 lbs
Stall Speed (dirty):
Range: 4,000 nmi
 
Rate of Climb: 
Rate of Climb (One Engine):
Service Ceiling: 41,000 ft
Ceiling (One Engine): 
 
Takeoff
Landing
Ground Roll: 5,640 ft
Ground Roll 2,402 ft
Takeoff Roll Over 50 ft:
Landing Roll Over 50 ft:
History
The Bombardier Challenger 650 is the updated version of the Challenger 605. The Challenger 650 features a completely re-designed cabin over previous CL-600 platform aircraft. Although Bombardier market the Challenger 650 as a "large aircraft", it is really a top end super-midsize jet.
It was announced during NBAA 2014, with NetJets being the launch customer – ordering an impressive 75 650s. Production began in 2015.
The Challenger 650 features 2 additional executive seats to accommodate up to 12 passengers, and upgraded engines offering a 5% increase in takeoff thrust rate to reduce takeoff field length.
The Bombardier Vision flight deck offers the industry's most extensive baseline feature set including synthetic vision and MultiScan weather radar. Sharing much of the same functionality as the Proline Fusion found on our Global aircraft, the Challenger 650 aircraft is available with all the technology you need today and tomorrow.
Baseline ADS-B Out
FANS 1/A+ (CPDLC & ADS-C) capable
RNP AR 0.3 capable
The wing design delivers an ultra-smooth ride and delivers class-leading reliability with more system redundancies than any of its competitors. It has a 4,000 nm range, and with its steep approach certification, the Challenger 650 aircraft can operate in and out of challenging airports like Aspen and Lugano.
The Challenger 650 aircraft has the lowest direct operating cost in its class through affordable maintenance programs and longer maintenance intervals than the competition.
The galley found on the Challenger 650 has ample meal preparation and storage space to accommodate 12 passengers. Baseline equipment includes high-temperature and microwave ovens, large sink with hot and cold water, and chilled storage areas.
The Challenger 650 aircraft delivers class design and reliability with more system redundancies than any of its competitors. With the widest-in-class cabin, worldwide reach, and the lowest direct operating costs it makes the Challenger 650 aircraft a winning choice.