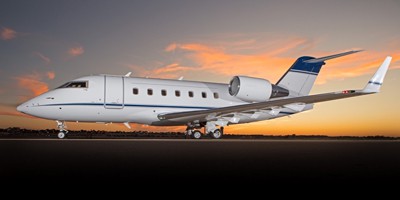 Bombardier Challenger 604
The Bombardier Challenger 604 is a twin-engine, fanjet aircraft with a retractable gear. The Challenger 604 is a low-wing airplane produced by Bombardier between the years 1996 and 2007, Serial Numbers 5301 through 5665. It seats up to 19 passengers and 2 pilots. Business seating configurations seat up to 9 passengers comfortably.
Specifications
Exterior Dimensions
Wing span: 64 ft 4 in
Length: 68 ft 5 in
Height: 20 ft 9 in
Interior Dimensions
Cabin Height: 6 ft 1 in
Cabin Width: 8 ft 2 in
Cabin Length: 28 ft 5 in
Cabin Volume: 1,150 cu ft
Door Height: 5 ft 10 In
Door Width: 3 ft 1 in
Internal Baggage: 115 cu ft
Weights
Max TO weight 48,200 LBS
Empty Weight:  27,185 LBS
Maximum Payload: 4,815 LBS
Fuel capacity: 19,850 LBS
Engine (x2)
Manufacturer: General Electric
Model: CF34-3B
Horsepower: 8,729 LBS
Overhaul (HT): 6400 HRS
Standard Avionics
Collins Proline 4 Avionics
Electronic Flight Information System with 6 screens
Terrain Awareness System
Dual WAAS GPS
ADS-B
TCAS II
Performance specifications on Bombardier Challenger 604
Thrust: 8729.00 x 2
Gross Weight: 48,200 lbs
Top Speed: 488 kts
Empty Weight: 27,185 lbs
Cruise Speed: 459 kts
Fuel Capacity: 19,850 lbs
Stall Speed (dirty):
Range: 3,380 nmi
 
Rate of Climb: 4,345 fpm
Rate of Climb (One Engine): 680 fpm
Service Ceiling: 41,000 ft
Ceiling (One Engine): 20,000 ft
 
Takeoff
Landing
Ground Roll: 5,840 ft
Ground Roll 2,777 ft
Takeoff Roll Over 50 ft:
Landing Roll Over 50 ft:
History
The best-selling variant of the Challenger series has been the CL-604, which was launched in 1995.
Bombardier introduced its Challenger 604 in 1995 as a major upgrade on the Challenger 601 design, incorporating more powerful engines, larger fuel supply, completely new undercarriage, structural improvements to wings and tail, and a new electronic flight instrumentation system. The Challenger 604 is a longer-range derivative of the 601-3R with a larger fuel capacity and upgraded CF34-3B engines. The Challenger 604 was also one of the first business jets designed with a super-critical wing.
Like the Challenger 601-3A, the aircraft consists of a glass cockpit: the Collins Pro Line 4. Six screens (7.25 inches) show left and right primary flight displays, multifunction displays and EICAS. The avionics suite also includes pilot-friendly features such as flight director/autopilot systems, HF-9000 high frequency radios, digital air data computers, turbulence detection radar and dual Pro Line 400 all-digital interface comm/nav/ident radios. All contribute to the ease and comfort of flying.
The Challenger 604's cabin is very similar to its predecessor's, 601-3A and -3R. Although the aircraft's interior measures 28.3 feet in length, the available cabin space is just short of 17 feet. The cabin has a generous stand-up height and over 8 feet in width. At its maximum capacity of 19 passengers, the cabin would be crowded at best, however there is plenty of room with 10-12 passengers. The space can be configured in a double-club or a forward club/half club/divan arrangement. Since the 604 has intercontinental range, a deluxe galley and lavatory, and extremely low noise levels are much appreciated by passengers.
The Challenger 604 is one of Bombardier's most capable aircraft. Not only is the jet capable of traveling long legs with few to no stops in between, it offers plenty of pilot and passenger amenities that make the trips manageable. It's no wonder that Bombardier produced a total of 347 Challenger 604's, and for ten years (1996-2007).