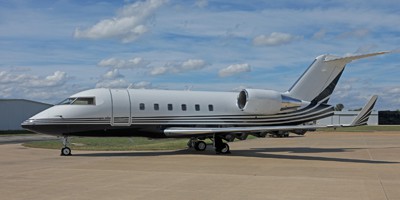 Bombardier Challenger 601 1A/3A/3R
The Bombardier Challenger 600 Models 1A/3A/3R is a twin-engine, fanjet aircraft with a retractable gear. The Challenger 601 is a low-wing airplane produced by Bombardier between the years 1983 and 1995, Serial Numbers 3001 through 5194. It seats up to 19 passengers and 2 pilots. Business seating configurations seat up to 9 passengers comfortably.
Specifications
Exterior Dimensions
Wing span: 64 ft 4 in
Length: 68 ft 5 in
Height: 20 ft 8 in
Interior Dimensions
Cabin Height: 6 ft
Cabin Width: 8 ft
Cabin Length: 28 ft
Cabin Volume: 1,146 cu ft
Door Height: 5 ft 8 In
Door Width: 3 ft
Internal Baggage: 115 cu ft
Weights
Max TO weight 45,100 LBS
Empty Weight:  26,250 LBS
Maximum Payload: 4750 LBS
Fuel capacity: 17,635 LBS
Engine (x2)
Manufacturer: General Electric
Model: CF34-1A/3A/3A1
Horsepower: 8,729 LBS
Overhaul (HT): Engine Program
Standard Avionics
Dual Collins / Sperry avionics
Terrain Awareness System
RVSM
Dual WAAS GPS
ADS-B
TCAS II
Performance specifications on Bombardier Challenger 601-3R
Thrust: 8729.00 x 2
Gross Weight: 45,100 lbs
Top Speed: 479 kts
Empty Weight: 31,000 lbs
Cruise Speed: 459 kts
Fuel Capacity: 17,635 lbs
Stall Speed (dirty):
Range: 3,380 nmi
 
Rate of Climb: 4,259 fpm
Rate of Climb (One Engine): 1,180 fpm
Service Ceiling: 41,000 ft
Ceiling (One Engine): 25,000 ft
 
Takeoff
Landing
Ground Roll: 6,050 ft
Ground Roll 2,785 ft
Takeoff Roll Over 50 ft:
Landing Roll Over 50 ft:
History
During 1980, the first production model of the Challenger series, the CL-600, entered service with end-customers. Early marketing of the type by Canadair typically contrasted the more spacious cabin offered by the Challenger against its competitors, which typically had more narrow fuselages and therefore cramped conditions, as well as the type's fuel economy. By 1982, while only 10 aircraft had entered service, the company had begun publicizing a new model of the aircraft, the CL-601, which was to be powered by a pair of General Electric CF34 turbofan engines in place of the original models' Lycoming units. On 10 April 1982, the CL-601 performed its maiden flight. According to Flight International, the decision to adopt the CF34 engine for the new model was responsible for generating a substantial boom in Challenger sales.
Description
Bombardier designed the original Challenger 601 with the primary goal of passenger comfort. It is unusually wide-bodied and can carry up to nineteen passengers in its 8.2 foot wide cabin, yet it has transcontinental range, and is able to complete nonstop flights between almost any two cities in the United States. The 601 series has improved immensely over the 600, with a more reliable flight system and increased maintainability. The 601-1A iteration signifies the use of General Electric CF43-1A engines and drag reducing winglets.
Private Jet Photo Bombardier Challenger 601-1A interiorAs previously mentioned, the cabin of this private jet is uncharacteristically large: its width is 8.2 feet, and its height is 6.1 feet. Cabin length is 28.3 feet. Passengers enjoy a quiet interior and well-lit cabin. It usually has a seating configuration that comfortably holds between eight and twelve people, but can be configured to carry as many as nineteen.
Two General Electric CF43-1A engines power the Challenger 601-1A, each flat rated to 70°F, meaning that the engines provide their full 8,650 pounds of thrust in temperatures up to 70°F. Performance drops slightly above the 70° mark, but they still perform well in temperatures over 90°F. The Challenger 601-1A can take off in 5,400 feet (at sea level) with an increased takeoff weight of 44,600 lbs. It can take five passengers up to 3,500 nautical miles nonstop.
Private Jet Photo Bombardier Challenger 601-1A exteriorThe Challenger 601-1A can hit a top cruise speed of 459 ktas; however, it is more often used for long-range trips, where it cruises at 424 ktas. The aircraft cruises (long-range) at Mach .74. The cabin of the Challenger 601-1A is rated to 8.8 psi, meaning that it can maintain a sea-level cabin at 23,200 feet. Its performance is surprisingly high considering that the cabin is larger than most other jets.
The cockpit of this private jet contains dual digital Honeywell DFZ-800 flight guidance systems, Honeywell laser INS, dual Honeywell EDZ-800 EFIS, and dual digital Collins com/nav/ident radios.
While the Challenger 601 is a private jet well-suited for frequent cross-country trips under rigorous conditions, it fails to match the performance capabilities of the upgraded 601-1A. Refinements like a more advanced engine and the addition of winglets make the aircraft capable of transoceanic range while maintaining ample cabin space for which its predecessor is known.  (courtesy Jet Advisors)
Variants
Bombardier Challenger 601-1A (1983-1987) Serial Numbers 3001 through 3066
A refined version including winglets to decrease drag and more powerful General Electric CF34-1A (66 built, including six Canadian Forces CC-144B) CL-601-1A/ER – 601-1A retrofitted with an additional fuel tank in the tail
Bombardier Challenger 601-3A (1987-1993) Serial Numbers 5001 through 5134
GE CF34-3A engines with a higher flat rating and a glass cockpit. This was the first version marketed by Bombardier. CL-601-3A/ER – 601-3A with an additional, optional fuel tank in the tail
Bombardier Challenger 601-3R (1993-1995) Serial Numbers 5135 through 5194
The tail tank was made standard, CF34-3A1 Engines were introduced.