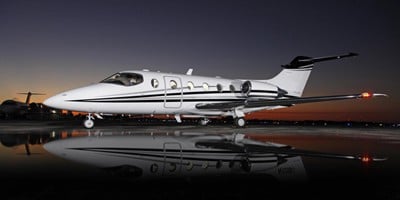 Beechjet 400 A/XP
The Beechjet 400 is a small jet manufactured by Beech between 1986 and 2010. It can seat a maximum of 6 passengers with 2 crew. The baggage compartment can hold up to 7.6 bags assuming your average piece of luggage is less than 5 cubic feet. The Beechjet 400A has a maximum range (not including headwinds, high altitude, hot temperatures, or higher capacity) of 1547 miles and a maximum speed of 539 mph. Common names and abbreviations: Beechjet 400A, BE-400A.
Specifications
Exterior Dimensions
Wing span: 43 ft 6 in
Length: 48 ft 5 in
Height: 13 ft 9
Interior Dimensions
Cabin Height: 4 ft 10 In
Cabin Width: 4 ft 11 In
Cabin Length: 15 ft 7 In
Cabin Volume: 305 cu ft
Door Height: 4 ft 2 In
Door Width: 2 ft 5 In
Internal Baggage: 31 cu ft
Weights
Max TO weight 16,100 LBS
Empty Weight:  10,050 LBS
Maximum Load: 2085 LBS
Fuel capacity: 4912 LBS
Useful Load: 5,850 LBS
Engine
Manufacturer: Pratt & Whitney
Model: JT15D-5 Turbofan
Horsepower: 2900 LB Thrust
Overhaul (HT): 3600 hr TBO
Average overhaul: $350,000
Performance specifications on Beechjet 400A
Range
Normal Range: 1180 nm
Max Range: 1519 nm
Service Ceiling: 45000 ft
Performance
Takeoff at Sea Level, feet 3,950
Takeoff at 5000? 25°C, feet 5,850
Rate of Climb: 3770 fpm
Climb Rate One Engine Inop: 560 fpm
Max Speed: 468 kts
Normal Cruise: 443 kts
Economy Cruise: 410 kts
Stall Speed: 92 kts
Landing Distance, feet 2,730
Certified Ceilings, feet 45,000
Ranges, Four Pax, Nautical Miles (NM) 1,347
Fuel Consumption, gallons per hour 188
Total Variable Cost $1,227
History
The Hawker 400 is a small twinjet corporate aircraft. Initially designed and built by Mitsubishi, it has been further developed and updated by the Beech Aircraft Company, now part of Textron Aviation.
Design
It is a small, low-winged twin-turbofan aircraft of all metal construction, flown by a crew of two pilots and accommodating eight passengers in a pressurized cabin. Its wings use a computer designed, supercritical airfoil in order to minimize drag. Its two Pratt & Whitney Canada JT15D turbofans are mounted on the rear fuselage.
Powered by JT15D-5/-5R, it can fly 1,351 nm with four passengers, cruising at Mach 0.71–0.73, and most pilots are comfortable flying it over three hours, about 1,175 nmi cruising at Mach 0.73–0.76, typical missions are 1.5 to 2.0 hours with 400 kn block speeds. It burns 1,500 lb of fuel the first hour, dropping to 1,100–1,200 lb for the second. Basic operating weights range from 11,000 to 11,100 lb, full tanks payload is less than 500–600 lb but the average passengers are three, it can fly six passengers 1,100 nmi.
Development
The aircraft was originally designed as the Mitsubishi MU-300 Diamond, an all-new, all-jet development to complement and slot above the Mitsubishi MU-2 and provide Mitsubishi Heavy Industries with their top-of-the-line corporate aircraft model (hence the name "Diamond"). It first flew on August 29, 1978. Mitsubishi went on to produce 97 MU-300s, all of which were assembled by the company's United States subsidiary.
In 1985 Mitsubishi sold the rights and a number of unfinished airframes to Beechcraft, who began manufacturing it as their own model, initially re-designated as the Beechjet 400, certificated by the Federal Aviation Administration in May 1986. Raytheon/Beechcraft developed improvements for the 1990 400A for longer range, higher take-off weights, luxury appointments and offering an all-glass flight deck.
Beechcraft developed the T-1 Jayhawk version for the United States Air Force, used as a trainer for crew of large aircraft like tankers and strategic transports: 180 were delivered between 1992 and 1997. The Japan Air Self-Defense Force 400T trainer shares the T1-A Type certificate.
In 1993 Raytheon purchased the Hawker business jets from British Aerospace, renamed the Beechjet 400 as the Hawker 400 to include it in the line and the Hawker 400XP incorporated aerodynamic, mechanical and interior improvements from the Hawker 800XP. In October 2008, Hawker Beechcraft upgraded it as the Hawker 450XP including new, more fuel efficient Pratt & Whitney PW535Ds with 2,965 pounds of thrust each but it was canceled in June 2009 due to poor economic conditions.
Nextant Aerospace re-manufactures it as the 400XT, replacing the JT15Ds with Williams FJ44s and adding new avionics and interior, it was FAA-certified in October 2011.[12] Up to one-third of the 400A/400XP fleet could be retrofitted, enabling improved range, speed and fuel efficiency. It should keep their resale value to remain in economic service for another twenty to thirty years, like Falcon 20s reengined with TFE731s.
Variants
Mitsubishi MU-300 Diamond I (1982) Serial Numbers A013SA-27 (1983) A036SA-52
Initial model. Two prototypes and 89 production aircraft built, 56 in active use as of 2014.
Mitsubishi MU-300-10 Diamond II (1982-1985) Serial Numbers A003SA-91
Improved version of Diamond I; 11 built, all subsequently redesignated as Beechjet 400s.
Beechcraft Model 400 Beechjet (1986-1989) Serial Numbers RJ1 through RJ65
The Diamond II built after Beechcraft bought the MU-300 production rights from Mitsubishi. 54 built in addition to the original 11 Diamond IIs.
Beechcraft Model 400A Beechjet (1992-2002) Serial Numbers RK2 through RK353
Upgraded model, initially produced as the Beechcraft Beechjet 400A, then Raytheon Beechjet 400A, then Raytheon Hawker 400XP, then Hawker Beechcraft Hawker 400XP. One prototype converted from Model 400 and 593 built as of the end of 2009.
Model 400T
Military version of the Model 400A, 180 built for the United States Air Force as the T-1 Jayhawk and 13 built for the Japan Air Self-Defense Force. In Japanese service they are referred to as T-400.
Beechcraft Model 400XP Beechjet / Hawker 400XPR (2003-2010) Serial Numbers RK354 through RK604
A factory engineered and supported upgrade first flown May 2012. The conversion features new avionics, interior, winglets, and Williams FJ44-4A-32 engines. The first fully configured was delivered on July 20, 2017, the upgrade can be performed in 12 weeks with a choice of Rockwell Collins Pro Line 4 to 21 or Garmin G5000 avionics, it provides 33% more range to 2,160 nmi with four passengers, better hot and high performance and a 19 min climb to FL450 at max takeoff weight.