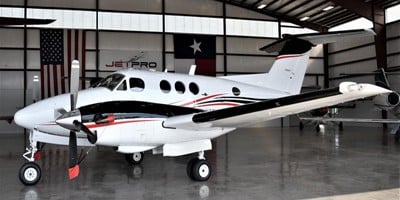 Beech King Air F90-1
The Beech King Air F90-1 is a pressurized, twin-engine turboprop business aircraft configured as a cantilever low-wing aircraft with a T-Tail. It has retractable gear and was produced by Beechcraft between the years 1983 and 1985 during which time 33 aircraft were manufactured, serial numbers LA202, 205 through LA236.
The King Air F90-1 can accomodate up to eight passengers, although it is more commonly configured for six passengers, with four seats arranged in a club, one seat across from the door, and a belted lavatory seat. An airstair door is located aft of the wing on the port side of the fuselage and the baggage compartment is in the aft cabin beyond the lavatory.
Specifications
Exterior Dimensions
Wing span: 45 ft 11 in
Length: 39 ft 10 in
Height: 15 ft 2 in
Interior Dimensions
Cabin Height: 4 ft 8 In
Cabin Width: 4 ft 5 In
Cabin Length: 12 ft 7 In
Cabin Volume: 218 cu ft
Door Height: 4 ft 3 In
Door Width: 2 ft 3 In
Internal Baggage: 54 cu ft
Weights
Max TO weight 10,950 lbs
Empty Weight:  6,647 lbs
Fuel capacity: 470 gal / 3,149 lbs
Engine
Manufacturer: Pratt & Whitney
Model: PT6-135A
Horsepower: 750 hp driving four-bladed, full-feathering, reversible, constant speed propellers
Overhaul (HT): 3600hr TBO
Standard Avionics
Collins Proline Avionics with VHF20A Comms and VIR30 Navs, DME, ADF and Sperry SPZ200A autopilot/flight director
Terrain Awareness System B
Bendix RDR1200 Color Radar
ADS-B
Performance specifications on Beech F90-1 King Air
Horsepower: 750.00
Gross Weight: 10,950 lbs
Max Cruise Speed: 279 kias
Empty Weight: 6,647 lbs
Cruise Speed: 251 kias
Fuel Capacity: 470 gal / 3,149 lbs
Stall Speed (dirty): 79 kias
Range: 1,612 nm
 
Rate of Climb: 2,455 fpm
Rate of Climb (One Engine): 632 fpm
Service Ceiling: 30,450 ft
Ceiling (One Engine): 15,300 ft
 
Takeoff
Landing
Ground Roll: 2,012 ft
Ground Roll 1,194 ft
Takeoff Roll Over 50 ft: 2,808 ft
Landing Roll Over 50 ft: 2,275 ft
History
Further refinement of the 90 series resulted in the Model F90 and follow-on Model F90-1. The F-models featured the T-tail of the Model 200 King Air mated to the fuselage and wings of the E90, with PT6A-135 engines of 750 shp (560 kW) driving four-bladed propellers.The F90 prototype flew on January 16, 1978 and 203 production versions followed between 1979 and 1983, when the F90 was superseded by the F90-1. The F90 prototype was re-engined with Garrett AiResearch TPE-331 engines to test the feasibility of a Model G90, but this model was not put into production.
Deliveries of the F90 began in mid-1979 and continued through 1983, when the F90-1 was introduced. The F90-1 features PT6A-135A engines, which provide improved performance compared to the PT6A-135 that powers the F90. While both powerplants are flat-rated to 750 shaft horsepower, the -135A offers 885 shaft horsepower at max takeoff power, compared to 850 shaft horsepower for the -135. The F90-1 also has redesigned low-drag cowlings. A Collins avionics package, including the APS-80 autopilot, was standard equipment.
Seattle's Raisbeck Engineering offers a number of popular performance products for the F90, including the Raisbeck/Hartzell quiet turbofan propeller system, dual aft-body strakes, high-flotation gear doors (for F90s equipped with high-flotation landing gear), and nacelle wing lockers.
Blackhawk Modifications provides a bolt-on engine upgrade for the F90 that involves replacing the aircraft's original PT6A-135 powerplants with factory-new PT6A-135As. Benefits include increased true airspeed, rate of climb, and single-engine service ceiling—along with decreased time and fuel to climb, lower operating costs, and increased resale value.