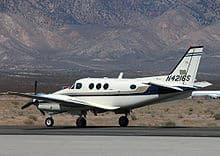 Beech King Air E90
The Beech King Air E90 is a pressurized, twin-engine turboprop business aircraft configured as a cantilever low-wing aircraft with a conventional tail. It has hydraulically-actuated, retractable landing gear and full feathering, reversible three-blade propellors. It was produced by Beechcraft between the years 1972 and 1981 during which time 347 aircraft were manufactured, serial numbers LW1 through LW347.
The King Air E90 is found in a variety of passenger configurations seating up to 5 passengers and 1 pilot. A typical executive congfiguration being a four-place club, a seat across from the airstair door, and a belted lavatory seat. The aft cabin/lavatory has a small baggage storage area. 
Specifications
Exterior Dimensions
Wing span: 50 ft 3 in
Length: 35 ft 6 in
Height: 14 ft 3 in
Interior Dimensions
Cabin Height: 4 ft 8 In
Cabin Width: 4 ft 5 In
Cabin Length: 12 ft 7 In
Cabin Volume: 270.1 cu ft
Internal Baggage: up to 7.7 bags and 54 cu ft
Weights
Max TO weight 10,100 lbs
Empty Weight:  5,996 lbs
Fuel capacity: 474 gal 
Engine
Manufacturer: Pratt & Whitney
Model: PT6A-28
Horsepower: 550 hp driving three-bladed, full-feathering, reversible, constant speed propellers
Overhaul (HT): 3600hr TBO
Standard Avionics
Dual Comms and Navs
Terrain Awareness System B
Autopilot and Radar
ADS-B
Performance specifications on Beech E90 King Air
Horsepower: 550.00
Gross Weight: 10,100
Top Speed: 250
Empty Weight: 5,996
Cruise Speed: 245
Fuel Capacity: 474
Stall Speed (dirty): 77
Range: 1,290
 
Rate of Climb: 1,870
Rate of Climb (One Engine): 470
Service Ceiling: 27,620
Ceiling (One Engine): 14,390
 
Takeoff
Landing
Ground Roll: 1,553
Ground Roll 1,030
Takeoff Roll Over 50 ft: 2,024
Landing Roll Over 50 ft: 2,110
History
A total of 184 B90 models were produced before the Model C90 was introduced in 1971, with wingspan increased over earlier models by 4 ft 11 in (1.50 m) to 50 ft 3 in (15.32 m), Maximum Take-Off Weight (MTOW) increased by 350 lb (160 kg) to 9,650 lb (4,378 kg), and PT6A-20A engines. The broadly similar Model E90 was introduced the following year, with PT6A-28 engines; the two were produced in parallel.
Following the C90, Beechcraft moved onto the King Air E90 after a D90 prototype was abandoned. The E90 is simply a more powerful version of the C90. The two models were produced in parallel, with the E90's major difference being upgraded PT6A-28 engines that give the aircraft a further range, faster cruise speed and better takeoff performance. It also has a slightly modified wing.
Jan. 18, 1972 – first flight of the Model E90. Mounting PT6A-28 turboprop engines of 680 shp flat-rated to 550 shp, the Model E90 was very similar to the Model C90. Pressurization remained the same as C90 at 4.6 psid but performance increased with a cruise speed at 16,000 feet of 285 mph and a service ceiling of 27,620 feet. At maximum range power setting, the E90 could fly 1,870 statute miles.