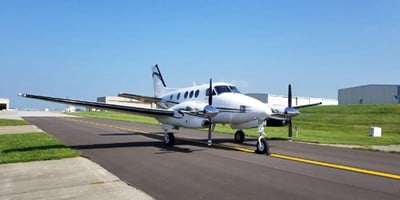 Beech King Air C90A
The Beech King Air C90A is a pressurized, twin-engine turboprop business aircraft configured as a cantilever low-wing aircraft with a conventional tail. It has hydraulic, retractable landing gear and three-blade propellors. The Model C90A was produced by Beechcraft between the years 1984 and 1992 during which time 235 aircraft were manufactured, serial numbers LJ1063 through LJ1299.
The King Air C90A is found in a variety of passenger configurations seating up to 5 passengers and 1 pilot. A typical executive configuration being a four-place club, a seat across from the airstair door, and a belted lavatory seat. The aft cabin/lavatory has a small baggage storage area.
Specifications
Exterior Dimensions
Wing span: 50 ft 3 in
Length: 35 ft 6 in
Height: 14 ft 3 in
Interior Dimensions
Cabin Height: 4 ft 8 In
Cabin Width: 4 ft 5 In
Cabin Length: 12 ft 5 In
Cabin Volume: 270.1 cu ft
Internal Baggage: up to 7.7 bags and 54 cu ft
Weights
Max TO weight: 9,650 (sn LJ1138 and up 10,000 lb GW)
Empty Weight:  5,765 lbs
Maximum Payload: 2,609
Fuel capacity: 384 gal
Engine
Manufacturer: Pratt & Whitney
Model: PT6A-21
Horsepower: 550 hp
Overhaul (HT): 3600hr TBO
Standard Avionics
Dual Comms and Navs
Terrain Awareness System B
Autopilot and Radar
ADS-B
Performance specifications on Beech C90A
Horsepower: 550.00
Gross Weight: 9,650 (sn LJ1138 and up 10,000 lb GW)
Top Speed: 273
Empty Weight: 5,765
Cruise Speed: 248
Fuel Capacity: 384
Stall Speed (dirty): 76
Range: 1,120
 
Rate of Climb: 1,955
Rate of Climb (One Engine): 539
Service Ceiling: 28,100
Ceiling (One Engine): 15,050
 
Takeoff
Landing
Ground Roll: 1,629
Ground Roll 737
Takeoff Roll Over 50 ft: 2,261
Landing Roll Over 50 ft: 1,672
History
The C90-1 was soon followed by the Model C90A starting with LJ-1063. The King Air C90A was the same as the C90-1, but with the new damage tolerant multi-element wing spar (wing bolts went from 'tension', to 'shear' mountings), hydraulically operated landing gear, new aerodynamically improved engine cowlings of the F90-1, and a higher-yet 695° engine ITT. These improvements added another 11 knots to the cruise speed, now at 248 KTAS.
In 1986, Raisbeck Engineering certified its EPIC Performance Improvement Package for all C90 models from 1973 through Beech's then-new production C90As. This EPIC System consisted of Hartzell/ Raisbeck 4-blade Turbofan Propellers of 93? diameter, Dual Aft Body Strakes, increased gross weight to 10,100 lbs. and measurably better FAA-approved takeoff and landing distances.
Beech followed in 1987, increasing the C90A's takeoff weight to 10,100 lb beginning with LJ1138. The C90A model was in production until 1992, by which time 235 had been built, all but 74 with the increased MTOW.