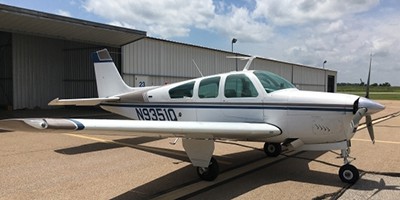 Beech Bonanza F33A
The Beech F33A Bonanza was manufactured from 1970 until 1994, serial number CE290 through CE1791. It is a single-engine, piston aircraft configured as a cantilever low-wing aircraft with a conventional tail. Distinguishing features are: retractable landing gear, constant-speed propeller. Model F33A Bonanza seats up to 5 passengers and 1 pilot.
Specifications
Exterior Dimensions
Wing span: 32 ft 10 in
Length: 26 ft 8 in
Height: 8 ft 3 in
Interior Dimensions
Cabin Height: 4 ft 2 In
Cabin Width: 3 ft 6 in
Cabin Length: 12 ft 7 in (19 in shorter in 1970)
Weights
Max TO weight: 3,400 lb
Empty Weight:  2,237 lbs
Maximum Payload: 1,467 lbs
Fuel capacity: 50 gallons (80 gal. optional)
Engine
Manufacturer: Continental Motors
Model: IO-520-B
Horsepower: 285 hp
Overhaul (HT): 1700hr TBO
Standard Avionics
Digital Nav/Coms
2-axis autopilot
GS/DME/ADF
ADS-B In/Out
Performance
Horsepower: 285.00
Gross Weight: 3,400
Top Speed: 181
Empty Weight: 2,237
Cruise Speed: 172
Fuel Capacity: 74
Stall Speed (dirty): 51
Range: 717
 
Rate of Climb: 1,167
Rate of Climb (One Engine):
Service Ceiling: 17,858
Ceiling (One Engine):
 
Takeoff
Landing
Ground Roll: 1,002
Ground Roll 763
Takeoff Roll Over 50 ft: 1,769
Landing Roll Over 50 ft: 1,324
History
F33 sibling with a 285 hp Continental IO-520-B engine and continued production until 1994. Model F33A was produced in two versions with no model designations to differentiate them.
In 1970, the F33A was your short cabin version of the straight-tail Bonanza with a big motor. 26 of these were built.
Beginning in 1971, the F33A got the long cabin of the contemporary Bonanza which moved the aft bulhead back 19 inches. 34 were produced with the long fuselage, allowing two important benefits: a larger baggage door and six seat configurations previously available only in the Model V35B Bonanza.
After 1971 F33A possessed all of the V35B´s glamour, both inside and out, with the only difference between airplanes being the choice of empennage design.
Beech F33C Bonanza (1970; 1973-1979; 1986-1987) serial numbers CJ-26 through CJ-179
A F33A with IO-520B (285 hp) certified for aerobatics. Five F33C aerobatic Bonanzas were built in 1970 and all were short fuselage airplanes.
No F33C were built in 1971-1972.
From 1973 on, all Model F33C Bonanzas featured the 19-inch longer fuselage and the same structural features of the earlier Model E33C aerobatic Bonanza.The F33C Bonanza seats up to 4 passengers plus 1 pilot. A total of 153 were built.
23 F33C were built in 1986, including 21 for the Mexican Air Force: c/n CJ-l56-CJ-176.
Distinguishing Features
Large quick-release bailout door latches
Significant internal strengthening for aerobatics